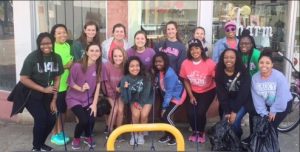 On Saturday, March 25th, nineteen UAB students representing three sororities participated in UAB's student-led Into the Streets Program, a volunteer service and leadership program. The students dedicated their Saturday morning to picking up trash, disposing of cigarette butts, and pulling weeds from tree beds and bench planters downtown on 2nd Avenue North. REV is proud to partner with UAB on cleanup projects here, in theFive Points South and Ensley neighborhood commercial districts. Thank you to everyone who participated!
Related News
Filed Under: Downtown Birmingham, Filling Vacant Spaces, Front Page

Birmingham's city center is fortunate to have many of its iconic historic buildings restored and in daily use now. But where would Birmingham be without the buildings in between the landmarks? 

Filed Under: Downtown Birmingham, Front Page

Coming from a place where people did not necessarily receive the help they needed, Jessica is striving to be that person as CAP's Street Outreach Advocate in Birmingham's City Center. 

Filed Under: Downtown Birmingham, Front Page

Downtown Birmingham residents, workers and visitors will notice something new about CAP in early 2019. As part of its strategy to be more visible, approachable and helpful in the City Center, CAP is rolling out new helpful gadgets in downtown.