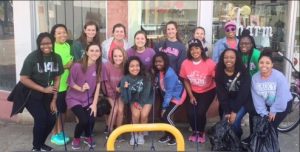 On Saturday, March 25th, nineteen UAB students representing three sororities participated in UAB's student-led Into the Streets Program, a volunteer service and leadership program. The students dedicated their Saturday morning to picking up trash, disposing of cigarette butts, and pulling weeds from tree beds and bench planters downtown on 2nd Avenue North. REV is proud to partner with UAB on cleanup projects here, in theFive Points South and Ensley neighborhood commercial districts. Thank you to everyone who participated!
Related News
Filed Under: Downtown Birmingham, Front Page

Sept. 15, 56 years to the day that a bomb killed four little girls— Addie Mae Collins, Denise McNair, Cynthia Wesley and Carole Robertson— a new interactive museum will open honoring the girls and the chain of events their murders set off in the Civil Rights Movement.