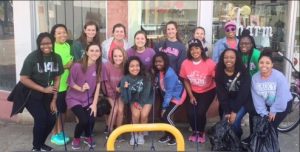 On Saturday, March 25th, nineteen UAB students representing three sororities participated in UAB's student-led Into the Streets Program, a volunteer service and leadership program. The students dedicated their Saturday morning to picking up trash, disposing of cigarette butts, and pulling weeds from tree beds and bench planters downtown on 2nd Avenue North. REV is proud to partner with UAB on cleanup projects here, in theFive Points South and Ensley neighborhood commercial districts. Thank you to everyone who participated!
Related News
Filed Under: Downtown Birmingham, Front Page

CAP is coordinating directly with leadership of Birmingham Police North Precinct and will continue to operate a full schedule as long as staffing and ambassador safety allows.

Filed Under: Downtown Birmingham

To protect one of Birmingham's most vulnerable populations, CAP and One Roof are coordinating education and sanitation services for people who are unsheltered.