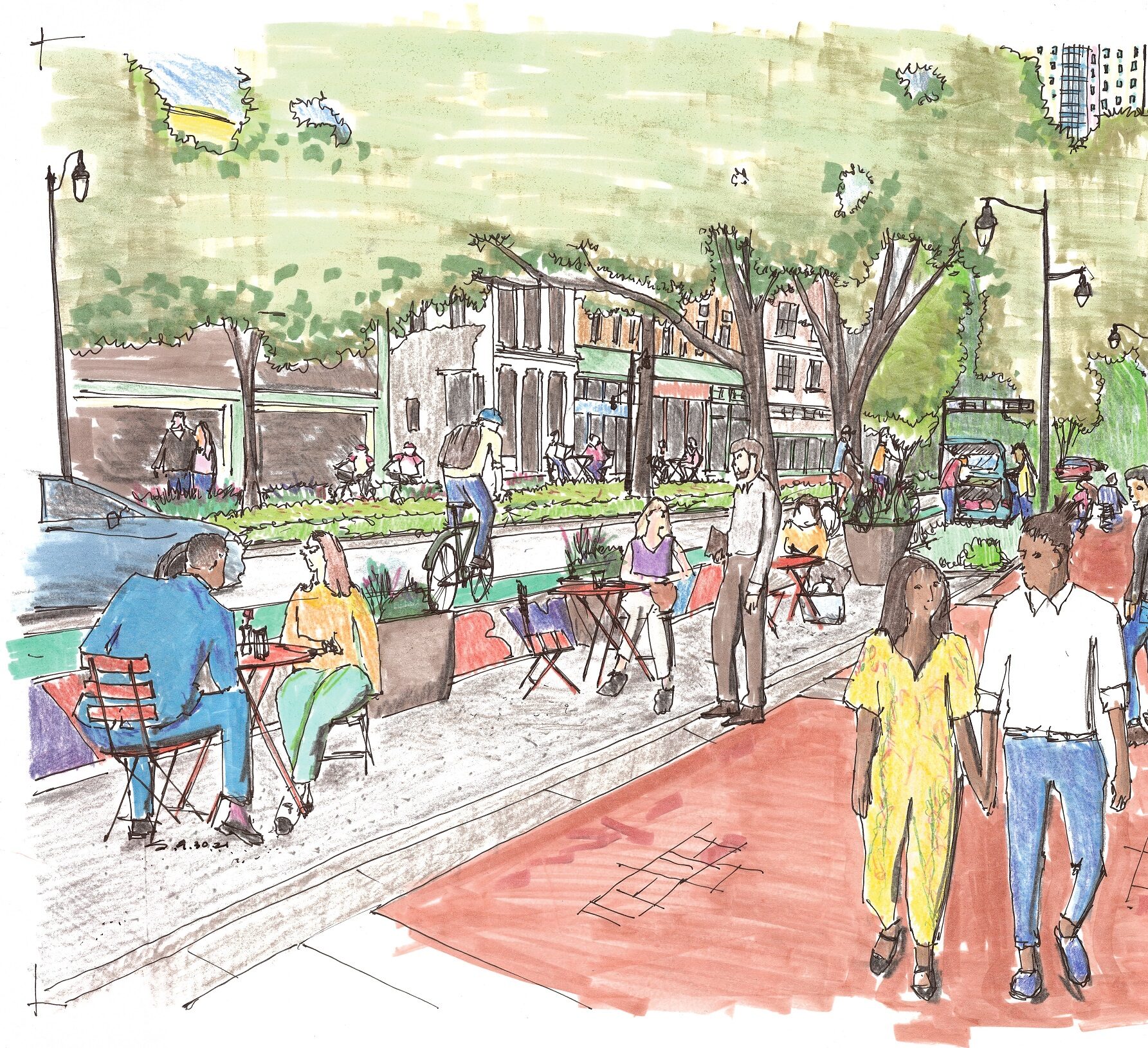 20th Street construction has been underway for some time now and we are so excited to be entering the final phase! We are beginning the lane striping and flex lane painting this week (which is VERY exciting) so let's break down how we got here and what to expect in the coming weeks.
We hope you've already seen our new brand for Downtown Birmingham. If not, as soon as you're done here, you should head on over to downtownbhm.com! But even if you are already familiar, what you may not know is that the new BHM brand is about more than only downtown.
Rewind to 2020
REV and many other regional economic development partners plus the talented BIG Communications team started working together to create a new brand that represents the vibrant, growing Birmingham that we know and love. As the team prepped to create a flexible brand that could be adapted for different kinds of organizations and branding/marketing needs across the greater Birmingham region, audience research revealed that many people living in some of our peer cities and slightly larger cities didn't have a negative or positive view of Birmingham. Our city simply wasn't on their radar. However, when visitors actually experienced Birmingham, they found it to be a city of pleasant surprises.

BHM has MORE
So we shifted our thinking from building a brand that overcomes perceptions to building a brand that we can use to introduce today's Birmingham and shine a light on all those pleasant surprises. We arrived at this: Birmingham has more. More passion, more talent. More history, more culture. More beauty, more in the works. Birmingham has more than you expected!
So you'll be hearing us and our regional partners using that language a lot. And you'll start seeing this BHM mark in places like downtown's newly painted 20th Street flex lanes.
What are flex lanes?
The flex lane design is based on national best practices and follows the direction of multiple City of Birmingham planning efforts, including the City Center Master Plan (2019), APPLE Study (2018), the Regional Planning Commission's B Active Plan, and Birmingham's Complete Streets Ordinance . All recognize a need for a safer and more multimodal downtown, especially along pedestrian corridors like 20th Street North.  
The design on 20th Street…  
creates a buffer from traffic for pedestrians on the sidewalk 
adapts to business needs like curbside food pickup, valet stands, and more creative uses 
gives bikes, scooters and other micromobility devices a well-defined space to travel in 
reduces the width of the travel lane, which is proven to reduce speeding, without changing the road's capacity (meaning 20th can hold the same number of vehicles, but now they're more likely to observe the speed limit) 
Want to learn more about the thought process behind the design of flex lanes?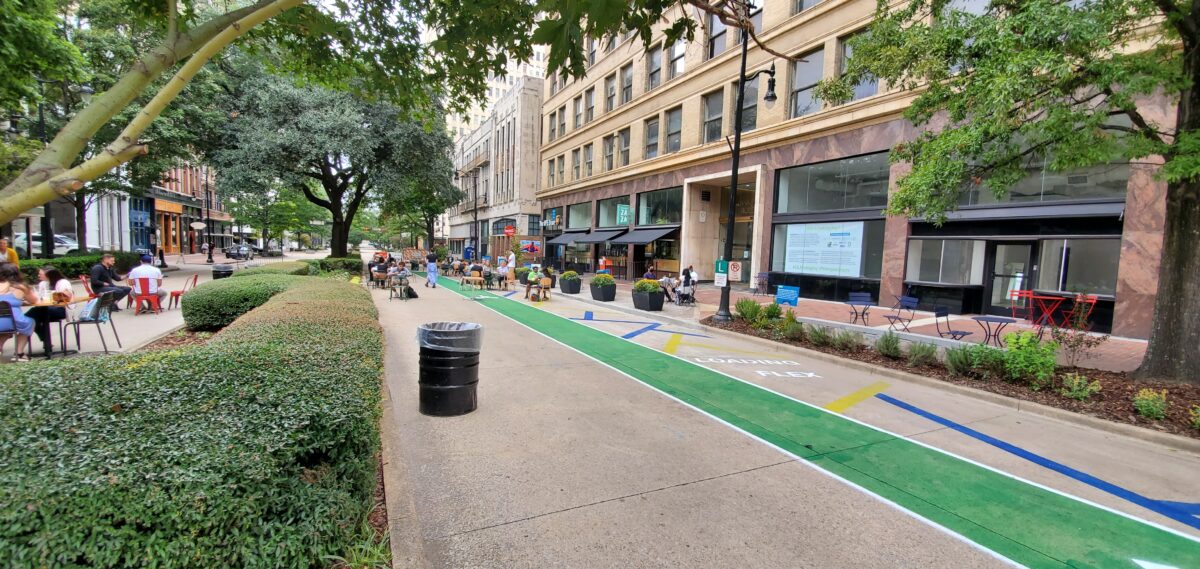 Parking Day 2020
We first tested out the flex lane concept during Parking Day 2020. ASLA, REV Birmingham, the City of Birmingham and CCDMC teamed up to transform a quarter block of 20th Street North by introducing flexible seating, fresh landscaping, reclaimed pedestrian space and multi-modal street design. We weren't exactly sure what to expect from this first iteration, but the results were overwhelmingly positive! You can read more about that process by clicking here.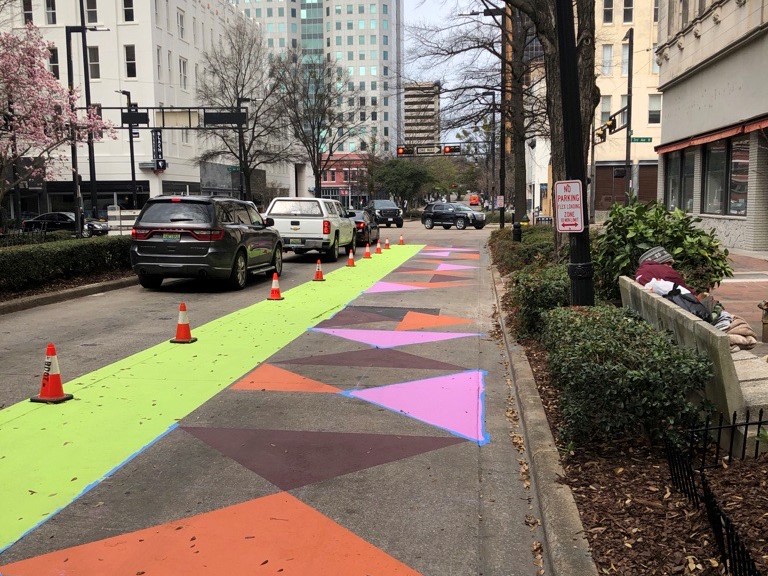 Further Flex Lane Testing
Since the Parking Day project proved to be such a success, we decided to test out the flex lanes a little more before diving all the way into our streetscape refresh project. In early 2021, the colorful triangle pattern that covered the flex lanes for close to a year made its appearance! This trial run helped us learn some do's and dont's on painting as well as start conversations with 20th Street stakeholders about what they'd like to see in the bigger 20th Street Refresh project going on now.
All of this has led us to where we are today as we get ready to present the final iteration of the flex lanes to you!
Where are we now?
As we mentioned earlier, we are in the final phase of construction which means all the exciting stuff is happening! This week we are beginning the lane striping and flex lane painting – we will be doing this two blocks at a time, so expect lots of updates on road closures (it'll be worth it in the end, we promise)!
We highly recommend keeping an eye on our 20th Street page and signing up for our email list here to stay up to date on closings. More finishing touches such as perennials, planters, and furniture that will truly make the project feel complete will be put out near the end of the project, which will be here before you know it!
Remember, when you start seeing our lovely new Birmingham logo in the paint hitting the pavement over the coming weeks, it means that Birmingham has more today than it did before – and that's more to be proud of in your city!
Related News
Filed Under: Front Page, Get Involved, Historic Preservation, Residential

President and CEO of REV Birmingham David Fleming writes about the importance of historic preservation and highlights the advocacy efforts that saved the French Quarter in New Orleans and the Forest Park neighborhood in Birmingham. The article concludes with a call to action, urging for new leaders and the implementation of various strategies to protect and celebrate Birmingham's historic buildings and places.

Filed Under: Filling Vacant Spaces, Front Page, Small Business, Woodlawn, Yaysayers

Lights, Camera, Action! The rebirth of the Woodlawn Theater is happening this weekend in the heart of Woodlawn. The theater is opening its doors to the public with two extraordinary opening events that are FREE to the public. The 1400 square foot venue has a wide range of amenities and even has a full-service bar. Because of the Mason Music Foundation, this venue is filling a much needed resource for local musicians to perform. Keep reading to discover how the theater came back to life and its impact on the community.

Filed Under: Downtown Birmingham, Events, Front Page, Yaysayers

Brian Allen, a talented cornerback, has made the remarkable transition from a small town in Texas to the vibrant city of Birmingham. Choosing Birmingham for his football career for two consecutive seasons, Brian's unwavering dedication and exceptional skills have made him a standout figure in the world of football. To dive deeper into Brian's journey and discover his genuine appreciation for the city, watch this video with the link below!