By Taylor Clark Jacobson
REV Birmingham Director of Business Recruitment & Growth
In just over two weeks, Birmingham went from concerned to self-quarantine with Shelter In Place, DIY masks and curbside pick-up as we collectively hunkered down. As REV's Director of Business Growth, experiencing this unprecedented moment in time has been overwhelming emotional as I've watched my favorite people—entrepreneurs and their teams—process and pivot to establish a new norm.  
It's been heart-wrenching, but more than that… It's been absolutely inspiring. Our small business community is upbeat: pivoting their model, hustling their heart out and leveraging technology to diversify their products and reach new heights.  
So, like the clients we serve, the REV Biz Growth team must pivot to support our customers—our small business community—to navigate an evolving landscape. Two weeks self-quarantined as REV's resident germophobe, and I'm learning from the entrepreneurial spirit of this comeback city we all proudly call home. 
FREE WEBINAR VIDEO
PIVOTING YOUR MODEL: Product Diversification and Distribution During Disaster
Led by Taylor Clark Jacobson, REV's Director of Business Recruitment & Growth 
Major economic shifts like we're currently experiencing force entrepreneurs – large and small – to pivot their model, products and revenue streams as well as the distribution channels. In this panel discussion from March 31, we'll explore how brands we know and love have strategically approached the challenge of product diversification and distribution. 
Panelists include: 
Zebbie Carney, Eugene's Hot Chicken  
Ace Graham, Alchemy 213
Nathan Pocus, Domestique Coffee
Here's what 2 weeks of self-quarantine has taught me about pivoting: 
1. Start with a serious attitude adjustment.
Attitude is everything. For Alchemy 213 owner Ace Graham, Covid-19 is an opportunity to embrace Kobe Bryant's 'Mamba Mentality' as he uses this challenge to be the best version of himself. So channeling Ace, rather than letting the negative news infiltrate my psyche, I choose to view Coronavirus as an opportunity to push our Business Growth offerings to new levels—to push our team to be a better version of ourselves. Want to take a deep dive into the Mabma Mentality? You can scoop up Bryant's book on Amazon. 
2. The biz model canvas is the bomb.
The business model canvas is a super simple, yet powerful, tool. Time and again the canvas proves its effectiveness for start-ups, growth businesses and non-profits. It begins with a problem, a solution and the customer. Whether you're expanding or pivoting, the business model canvas is an awesome starting place to rethink the model. Our partners at Pathway Lending have put a resiliency spin on the canvas for their "Roadmap to Resiliency: Business Planning for Our New Reality" workshop. Check out all the upcoming workshops from REV Biz Team and partners!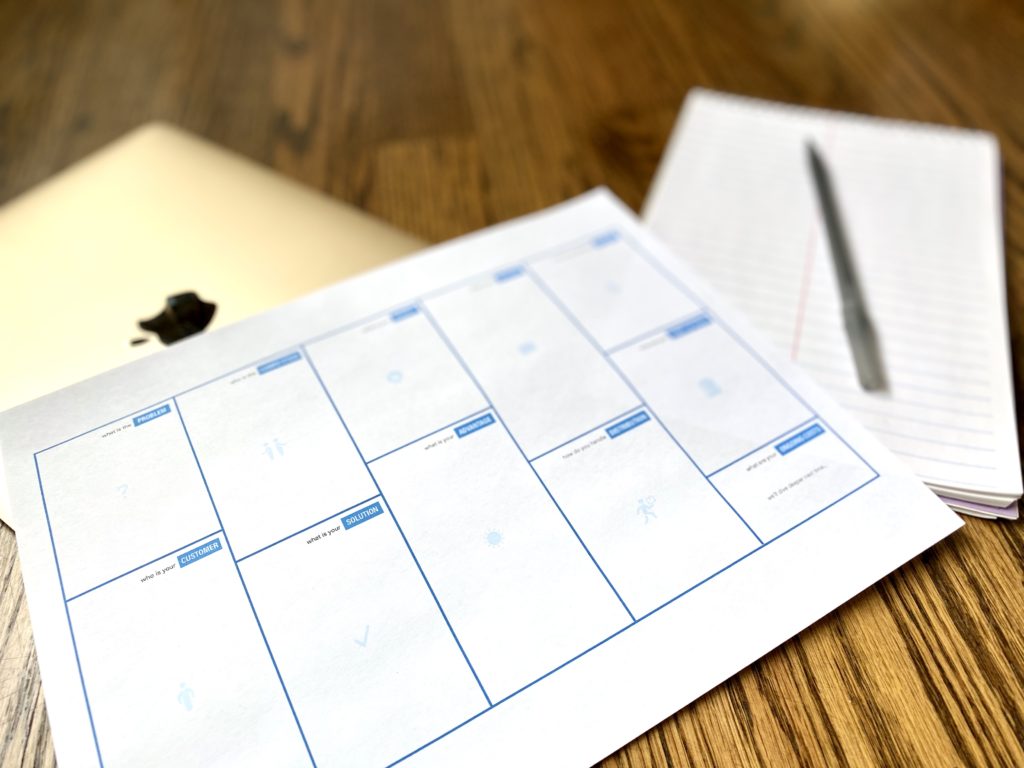 3. Go with your gut and don't look back. 
While it feels like we're stuck in a time warp, Covid-19 has pushed us to pivot quickly to remain relevant and to diversify for sustainability. It's forced our team to resist group think, brainstorm quickly and implement without second-guessing. You'll find your gut instinct is pretty darn on point. 
4. Remember and respect the hustle.
When you're starting a business your grit, your drive, your ambition is unstoppable. You don't sleep. You forget to eat. You're obsessed. Covid-19 is a reminder of those early days of building something from nothing. This time has been a reminder of how enjoyable the hustle can be. Now is the time to reconnect with your entrepreneurial hustle and get creative. 
5. Push tech full throttle.
If you've not had the time or interest in leveraging technology to diversify your customer base, your products and your revenue streams, now is the time to do it. Covid-19 is solidifying its role in our daily lives—bringing us both closer and further from one another.  
If you're ready to pivot, our business growth team has your back. Check out the video from our Tuesday, March 31 workshop Pivoting Your Model: Product Diversification and Distribution in Disaster by using the form above, and register for upcoming workshops designed for small businesses reacting to Covid-19.
Plus, you can always schedule a 30-60-90 roadmapping session or a virtual coaching session with REV's Biz Team to revisit the business model canvas.
Related News
Filed Under: Downtown Birmingham, Front Page, Uncategorized

We've talked about sports, but downtown has so much more to offer! Downtown Birmingham has so many experiences in store for you, which can also turn into life-long memories. And lucky for you, we've created a tool to make all that exploring so much easier!

Filed Under: Birmingham Food & Drink, Front Page, Get Involved

Ever host an event where you ordered way too much food and end up with more leftovers than you can even fathom? We've been there too – until we learned about Magic City Harvest! Magic City Harvest is an organization working towards ending food waste & hunger in the Magic City. They acquire perishable food from schools, wholesale food distributors, restaurants, caterers, churches, event venues and grocery stores to donate to 30 community partners on the frontlines feeding the city's hungry neighbors.

Filed Under: Downtown Birmingham, Front Page, Potential-Proving

We are approaching the finish line for the 20th Street Refresh, which calls for a celebration – and you're invited! The City Center Business Improvement District (BID), funded by downtown property owners, is partnering with the City of Birmingham and REV Birmingham to celebrate a refreshed Birmingham Green. Come join the party on May 20th from 4 to 8 p.m (with a special celebration happening at 6 p.m.)!