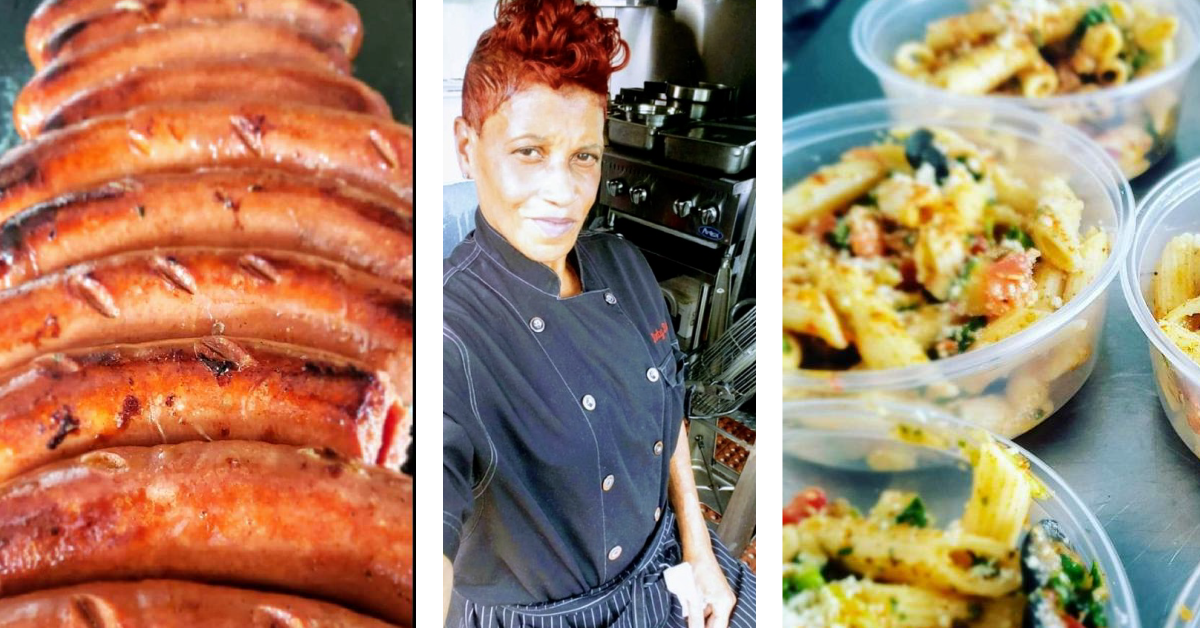 Nelesha Dale, also known as Dirty Red, opened her savory food truck in 2017 after a lifetime of loving and learning about food. As one of the original vendors of the Woodlawn Street Market, she has a big heart for community, family, and entrepreneurs. REV met with her to find out what's next for her business and how she got to where she is today.  
Q: How did you decide to go from culinary school to opening up your own food truck? 
A: I started out catering…and ended up doing lots of corporate events. About 10-15 years ago I decided I was sick and tired of being sick and tired of the corporate world, and food trucks were a big thing, so I said I'm gonna get me a food truck. 
Q: What kind of support did you receive when you were starting your business? 
A: Even before I started the business, I went to culinary school, and I was so nervous cuz you know trying to do something new, and my kids were in school, I was a wife, at home, I was happy where I was, and venturing into that new thing was just scary and challenging. I tell everybody all the time this was the biggest support. I was a secretary at Carraway Hospital, and there were all these nurses and doctors. 
One girl brought me some Kleenex because she said you're gonna be crying many days in college. One girl gave me a card with money, and she said listen y'all take trips, y'all go different places because if you can invest in that [food truck], why not invest in your future with your kids?  
It makes me want to cry because they really, really, really supported me. I mean it's just amazing. I was thinking if one person could do that, what can we do to motivate people? That's why I try to share with entrepreneurs and business owners who are starting their businesses because there was someone there for me.  
Q: How has your business evolved over the years? 
A: This is what I tell people. I have so many people through this telephone. You know you've made celebrity status when people are calling you, 'Where you at? Where you at?' They call Sundays, holidays, call all the time. There was another guy named Travis, who's been in the food truck business for 40 years, before food trucks were a thing. And he told me, 'First you've gotta have good food'…and I do some slap down good food.  
And another guy told me go out there. 'You're gonna be small, they're not gonna know you. But just be consistent, do quality food, and they're gonna come. They're gonna be looking for you.' 
I've ventured off into other things. I have this all-purpose seasoning that we use to season all our savory food. And people ask what is that on this corn? What is this taste? Now we've bottled it and sell that off the truck. …it really has evolved. I couldn't imagine this. That food truck's been the best thing I've done. 
Q: What do you think Birmingham and Woodlawn communities need most to continue its momentum? 
A: You're gonna have to have these smart people. Like REV Birmingham, the Woodlawn Foundation. I was thinking, "How do they think of this stuff?" You gotta have ingenuity, smart people…people thinking beyond their years.  
They [Woodlawn] have completely revitalized, just like its neighboring community, Avondale. They've been investing property around these areas. It's gonna be what it used to be. When I went to high school, it was black and white, a mixed fusion of people. That's where your growth comes from. 
Q: What are your favorite thing to sell on the food truck? 
A: The corn. You've gotta try it. We have the best burgers. Are you listening to me? The best burgers. I'm telling you. They're seasoned good, they're huge. One of our latest items we added is quesadillas, and now I've turned into a quesadilla. We offer chicken, shrimp, and steak quesadillas; we make so many of those. 
Q: Is there anything else you wanna add? 
A: I just want to encourage people. There was a gentleman who called me last week, and a female who called me three weeks ago, and they're interested in getting in the food truck business. I really want to help because I didn't have the help I needed… the process is lengthy, and it's expensive…. so anybody I can help, I told them don't hesitate to call. 
Keep up to date with their hours, locations, and menu items on their Facebook page! 
Related News
Filed Under: Front Page, Small Business, Woodlawn

We are so excited to announce that the Woodlawn Street Market is here to stay in 2023! The tenth season will kick off April 1st on 55th place, featuring over 60 vendors. The WSM has been a staple for the Woodlawn Community for years and has helped stimulate entrepreneurship in The Magic City.

Filed Under: Birmingham Food & Drink, Front Page, Small Business, Woodlawn, Yaysayers

Have you tried Naughty But Nice Kettle Corn, located right outside of downtown? With over eight different flavors to choose from, NBNKC is the perfect snack to satisfy your sweet OR salty tooth. However, NBNKC is more than just popcorn; Tanesha Sims-Summers, owner and founder, believes "We make Birmingham sweeter one kernel at a time.

Filed Under: Downtown Birmingham, Front Page, Residential, Yaysayers

Meet Lauren and Marina Moore! These sisters have lived at The Watts residents for the past two years. Learn why the Moores choose to live downtown rather than stay in the suburbs.