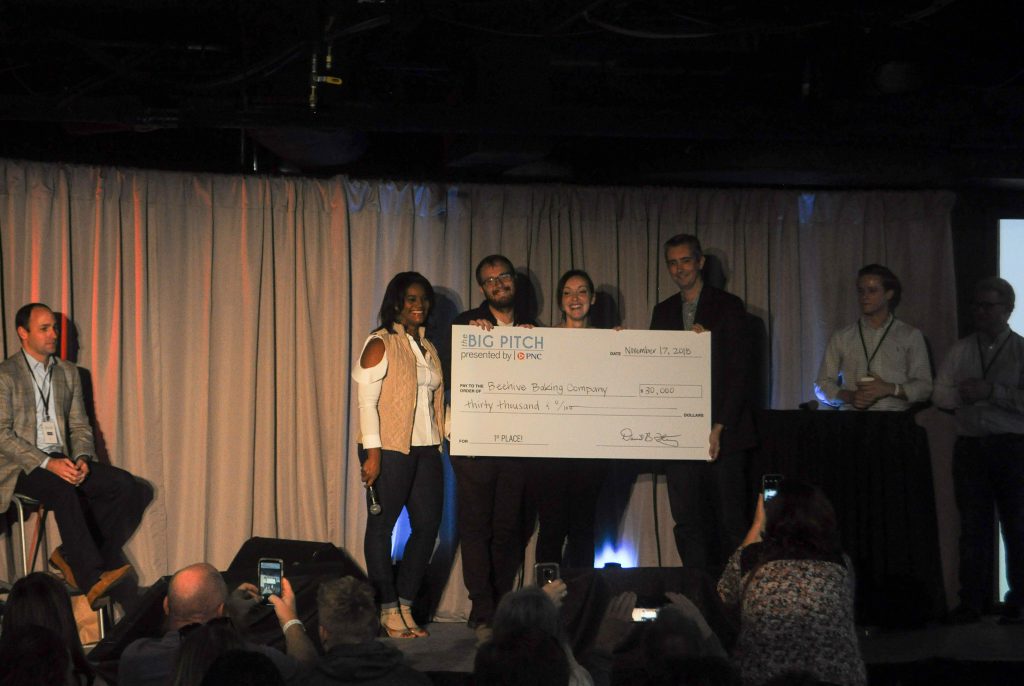 REV Birmingham is proud to reveal a few of Birmingham's next big things: the 2018 winning startup businesses from The Big Pitch presented by PNC Bank.
Five finalists took the stage in Five Points South to vie for a share of $50,000 in cash and professional services prize packages on Saturday, Nov. 17. The entrepreneurs described their up-and-coming businesses to judges and about 150 audience members at the annual competition organized by REV Birmingham.
1ST PLACE: BEEHIVE BAKING COMPANY Caedan Oliver and Sarah Schlund won the $30,000 first-place prize, plus $1,800 in legal services from Gatehouse Law and $1,500 in sponsored content from Bham Now. The farm-to-oven baking duo is already delivering the fresh, handcrafted and seasonal baked goods to doorsteps in Birmingham. The Beehive team plans to invest their winnings into expanding their business into a larger production space in Woodlawn, purchasing a branded delivery vehicle and more equipment.
2ND PLACE: GATOS AND BEANS Stephen and Kelli Steward won the $10,000 second-place prize, plus $900 in legal services from Gatehouse Law and $1,000 in sponsored content from Bham Now. The cat-loving couple is using their funds to work toward opening Birmingham's first cat café, combining a relaxed social atmosphere with a community service that finds foster cats their forever homes.
PEOPLE'S CHOICE: IGNITE CYCLE Tiffany Martin earned the most audience votes, winning $5,000 in cash. The high-energy entrepreneur is building a community to help people become their best selves, one pedal stroke at a time, at Birmingham's only boutique cycling studio – coming soon to a space in Pepper Place.
"The Big Pitch provides a great opportunity for Birmingham's corporate, civic and nonprofit communities to come together to invest in some of the best and brightest entrepreneurs in the region," said Nick Willis, PNC Regional President for Greater Alabama. "It was exciting to see such a high level of creativity from these five finalists. We look forward to seeing the winners' ideas transformed into new, sustainable businesses."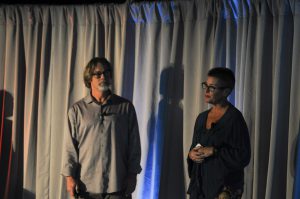 This year's additional finalists were auto repair and community space Mota Autohaus and a food truck park designed by Nelchie's Cajun Cuisine. The competition was held in the Studio Arts Building in Five Points South in the former Skky Lounge space, which is now owned by Orchestra Partners and will soon be redeveloped for retail or restaurant.
"The Big Pitch is much more than just one day of business pitches," said David Fleming, REV Birmingham President and CEO. "It's a community of people we like to call 'yaysayers' – people who believe in Birmingham and are eager to contribute to the city's next big things. The Big Pitch brings this community together to amplify its knowledge, resources and energy to help push these small business owners toward their next big steps."
All Big Pitch finalists were paired with mentors and service providers to help them plan their pitches and prepare to successfully grow their businesses over time. Finalists also attended REV's three technical assistance workshops that covered telling a brand story, understanding commercial real estate and finding funding.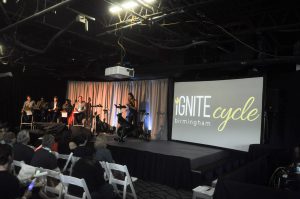 Each mentor either started, built or sold successful ventures of their own and coached their assigned Big Pitch finalist throughout the six weeks leading up to the competition. This year's mentors were Abra Barnes of Barnes & Associates, Tony Bayles of Bayles Catering, Scott Pierce of Two Ravens, Trevor Newberry of Newberry Consulting and Danny Winter of Brennan's Irish Pub.
This is the fifth year PNC Bank has sponsored the Big Pitch.  In addition to offering capital to the top competitors, PNC employees provide coaching and other support for all finalists.  This year, other sponsors include BIG Communications, CSpire, Poole & Company Architects, Bham Now, Daniel Corporation, Barfield Murphy Shank & Smith, and Orchestra Partners. In addition to sponsors who provided services, Gatehouse Law, LiftFund, TruFund, Rebecca Dobrinski of TedxBirmingham, David Gibson of Bell Media, and Kate Hardy of Square One Goods also supported the entrepreneurs with one-on-one consultations.
For more details on The Big Pitch, visit bigpitchbham.com. Follow @revbham on Facebook, Twitter and Instagram to see more from #REVBigPitch plus more of REV's vibrancy-driving work in Birmingham.
Related News
Filed Under: Downtown Birmingham, Front Page, Get Involved

We've made it to the third and final public workshop for Re-vision Linn Park! Partners behind Re-Vision Linn Park will wrap up the community engagement process at the last public workshop on Tuesday, October 4, at Boutwell Auditorium. Community members can participate and provide feedback on a park design concept in the noon or 5:30 p.m. session – so come out one last time and let your voice be heard!

Filed Under: Big Pitch, Front Page, Small Business, Uncategorized

If you've been following REV for a while, you probably remember The Big Pitch Competitions we used to hold back in the day. The Big Pitch presented by PNC was essentially our own little version of Shark Tank. And a lot of your favorite local businesses that participated in this competition now have active retail storefronts that you can go check out. Let's start with some of our finalists that are based in the City of Birmingham and see what they've been up to!

Filed Under: Developer, Downtown Birmingham, Filling Vacant Spaces, Front Page, Potential-Proving, Uncategorized

Have you been to Downtown Birmingham's newest development located on 25th Street? If not, you need to head down there ASAP and check it out! This new single story development is a product of a collaboration between David Baker Architects (DBA) and Locke General Contractors, led by DBA's very own Amanda Loper. It is intended to be a "collaborative commercial space in a catalyst development area of Birmingham." Both DBA and Locke General Contractors will be tenants of the space, along with June Coffee Roasters, Zephyr Barber, and Last Call Baking Cooperative!