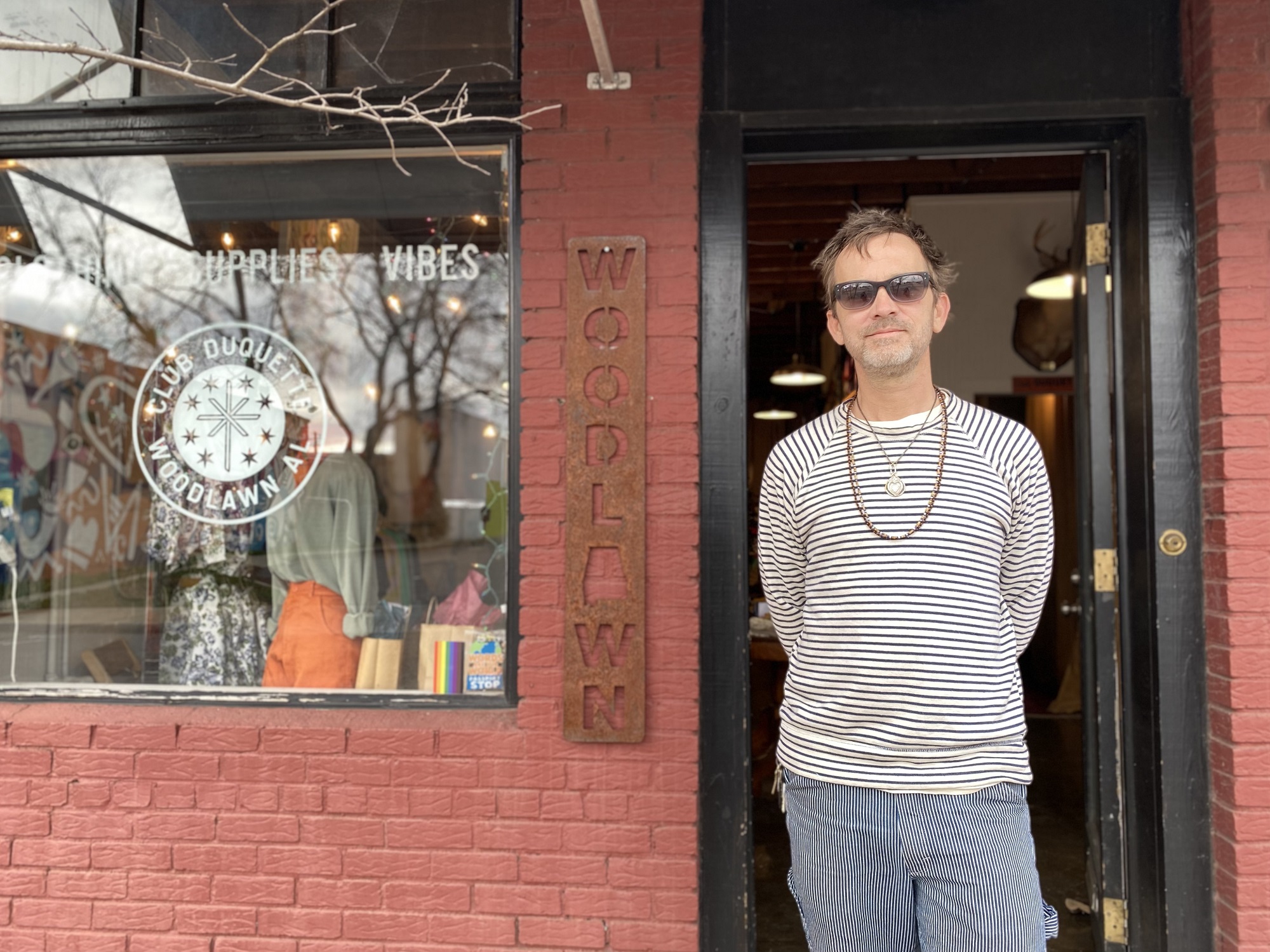 This post was originally published on Woodlawn's site.
Club Duquette is one of many beloved businesses here in Woodlawn! They like to describe themselves as "a modern mom and pop quality lifestyle brand with clothing, supplies, and good vibes for all people. For long wear and easy living." We sat down with Duquette Johnston, who owns this spunky store in partnership with his wife, Morgan Johnston, to learn more about the beginnings of Club Duquette and how they have managed to stay so successful over the years – even through the COVID-19 pandemic. You can check out their online store here or visit them in person at 17 55th Pl S, Birmingham, AL 35212!
How did Club Duquette come to fruition?
We had wanted to do our own shop for a long, long time. I mean, for over a decade before we even opened the doors, we were talking about it. Morgan's family was in the garment industry for seven generations. Like going way, way, way back, all the way back to like what is now Ukraine. Part of our family fled the Bolshevik Revolution and came to New York, and it just continued. She grew up on a clothing factory sewing floor. I mean, she used to pick up buttons to earn quarters from her granddad. She would go to New York for meetings with him when she was a teenager, she did a shirt for Donna Karen. She just had that connection. And I was always heavily into fashion from the time I was a teenager, because I got sort of sent off to boarding school when I was in high school, and you had to wear a coat tie every day. And my mom owned a couple of stores when I was a kid. We have always worked for ourselves, some way or another, and we had been doing creative consulting for everything from video shoots, photo shoots, are architecture firms, law firms, like redoing websites, and styling. Morgan was a photographer, and then a stylist and she produced videos. So, we just were in that world. And when it came to where we wanted to shop, or where we were trying to source stuff for clients, I felt like we always had to send them out of town. And it was either like the really low end or the extreme high end. And so, we wanted to build a shop that was about welcoming everyone. You can't always be everything for everyone, but you can create a space where everyone feels welcome and wants to come in and hang out and pre pandemic, getting to throw our parties and bring people together from all walks of life. You know, like using the space as a way to bring people together through music, and maybe a drink and some fashion. But through music and art for sure. Because it can tear down a lot of barriers and make people come together over this united thing.
How would you describe the aesthetic of Club Duquette?
You know, I don't know if anybody's ever asked me that question. I'm not sure how to describe the aesthetic. I mean, if it's in this shop it is part of our life. The aesthetic is an extension of us. We both, at times, are sort of into this high-low. Like, I love mixing pieces like a workwear pant with a loafer. We tried to bring in stuff that's quality over quantity, we have a connection to every brand that's in here. So, the aesthetic is stuff that's for long wearing easy living, is what we use to say. We like blending a little bit of luxury with a little bit of work. I won't carry it, if we don't use it.
Are the highs and lows where you get inspiration for the clothing that you design?
Yeah, I think some of that inspiration may just be from like growing up, you know, and the different arenas and areas of life I've been able to walk in. Growing up, as a kid, I would spend summers in the mountains of Wyoming and wear denim and t-shirts, and we'd spend most of our time outdoors. And then I would come back to Alabama and be thrown into the suburbs – and I just always sort of did me and made stuff up. That's the fun thing about fashion – it can take your mood or who you are and it's like your super suit, so to speak. There are certain pieces that when you put them on it elevates how you're feeling and how you're walking out the door.
So, why did you decide to open your business in Woodlawn?
There's a lot of reasons we chose Woodlawn. In the 80's I used to go to these underground punk rock shows around here. There was a house called the Woodlawn house and there were all kinds of people, like all walks of life. And I live about 5 minutes down the road, I knew the area, and the rent was affordable. A lot of people when they start a business try to find the fanciest place and try to get a huge loan – we wanted to do the exact opposite. I wanted somewhere that felt like home and that was affordable because we had no backing. When we started this business, people thought we were crazy – but we knew we could build something in Woodlawn, and Woodlawn was very welcoming to us.
How long have you been in Woodlawn?
The business is now in its sixth year. But then, part of my new record was recorded here (you can pre-save that here, by the way). All the songs before that were recorded here and whatnot. And this is just home. Yeah, you know, I mean, it. I hope it stays our home.
What's one piece of advice you would give someone starting a business?
Have a really good attorney and a really good accountant. Make sure you're structured and set up. And I say that because I wasn't at first – we weren't wrong, but it wasn't right. Especially as we grew. And the pandemic exposed that to me, and with the help of Balch & Bingham's Business Boost program, they were like "oh my gosh, you need to be doing this and this." A lot of people don't tell you so much about what goes into opening a business. So just have a good attorney and accountant and believe in yourself. You're not going to have it perfect out of the gate, but it doesn't matter. Evolve, change, grow, keep shifting and keep doing it. We're constantly doing that. You can get lost when things are growing, and you just have to refocus. Roll with the hits.
What style advice would you give people?
Keep it simple. Don't overthink it. Don't be afraid to be a little wild and expressive. There's no rules. You know, people are trying to tell you stuff and I get frustrated with people online like knocking on somebody for cuffing their pants. If you feel good in it, and you want to rock it, then do it. I think every guy should have a blue shirt. Because you can wear a blue shirt with anything – you can dress it up or you can dress it down. There are certain things that I think are sort of staples. Like a killer t-shirt that you love. You don't have to have a lot to "be stylists." You know what I mean? Don't overthink it. Don't try too hard. Just be yourself. Whatever that is, you know? That's what it comes down to.
Related News
Filed Under: Big Pitch, Front Page, Small Business, Uncategorized

If you've been following REV for a while, you probably remember The Big Pitch Competitions we used to hold back in the day. The Big Pitch presented by PNC was essentially our own little version of Shark Tank. And a lot of your favorite local businesses that participated in this competition now have active retail storefronts that you can go check out. Let's start with some of our finalists that are based in the City of Birmingham and see what they've been up to!

Filed Under: Developer, Downtown Birmingham, Filling Vacant Spaces, Front Page, Potential-Proving, Uncategorized

Have you been to Downtown Birmingham's newest development located on 25th Street? If not, you need to head down there ASAP and check it out! This new single story development is a product of a collaboration between David Baker Architects (DBA) and Locke General Contractors, led by DBA's very own Amanda Loper. It is intended to be a "collaborative commercial space in a catalyst development area of Birmingham." Both DBA and Locke General Contractors will be tenants of the space, along with June Coffee Roasters, Zephyr Barber, and Last Call Baking Cooperative!

Filed Under: Downtown Birmingham, Events, Front Page, Uncategorized

One of Birmingham's many hidden treasures is the music scene downtown. The sheer volume of concert venues we have in downtown Birmingham is something most people aren't even aware of – but it really is remarkable! There is truly something for everyone, whether you're into the smaller, more intimate venues or the large-scale venues for those big name artists. Keep reading to check out some of the cool venues downtown Birmingham has to offer.