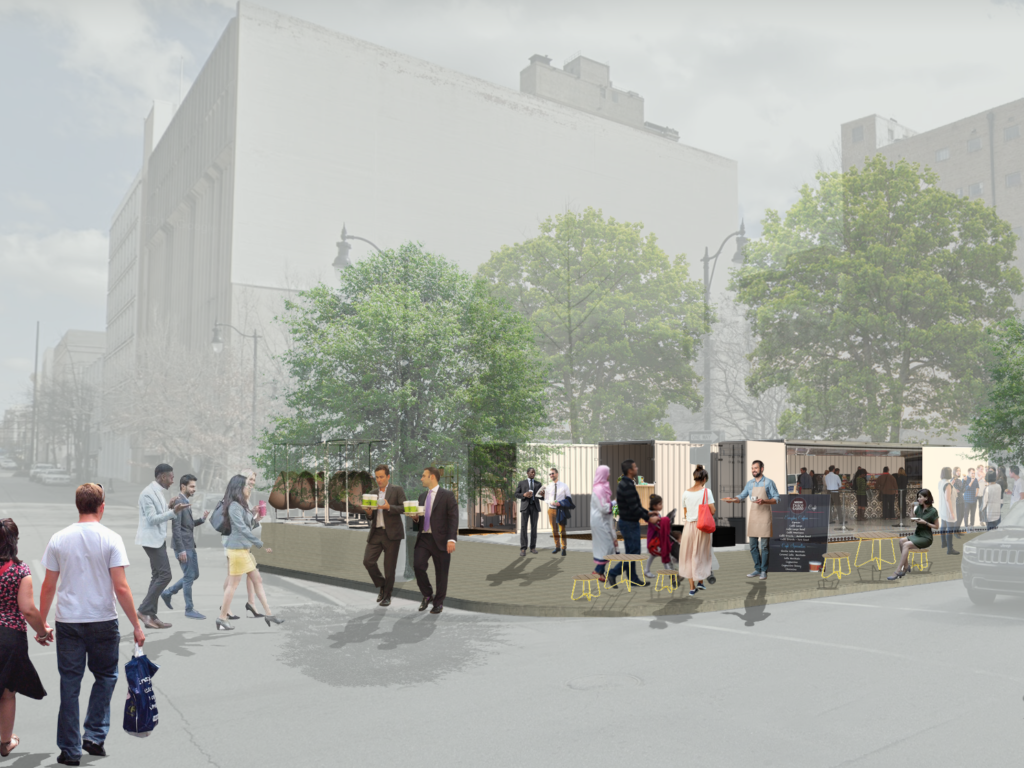 We believe that cool places to shop are vital ingredients for vibrancy in a city—and we believe Birmingham needs more of that.  
That's why this fall, the REV team is doing some new REV things, with a demonstration project designed to prove and improve downtown Birmingham's market for more retail. 
From September 29 to December 14, 2019, we're parking shipping container stores, hanging hammock swings, and planning fun events in a surface parking lot located at 1900 2nd Avenue North. We're calling it Upswing – because Birmingham is on the upswing, because local shops are making a comeback, and because there are literal swings on the lot.  
So make plans to shop local with these Birmingham businesses in our converted shipping container stores: Domestique Coffee, Hide & Hunter + Great Bear Wax Co., and Urban Vintage Clothing + Magic City T-shirts. Come hang out on brightly colored swings, rockers or plain ol' bistro sets and work (or play) using Upswing's free wifi. And, mark your calendars for Upswing's events this fall.  
Here are a few examples of events to come, and even more events for the three-month project will be announced soon. 
Friday, Sept. 27 
Upswing Soft Opening
Visit the shops as they open their doors for the first time!  
Sunday, Sept. 29 
Alabama Multicultural Street Fair, noon – 5 p.m.
A festival celebrating the cultural diversity and the heritage of Alabama with arts, music, dance, and food. More info.  
Tuesday, Oct. 8 
Mountain High Run Club Fun Run, 5:30 a.m. – 6:30 a.m.
A morning run with Mountain High Outfitters's Run Club, followed by coffee at Domestique.  
Thursday, Oct. 17 
Outdoor Movie Night with The Pizitz: Hocus Pocus, 7 p.m. – 10 p.m.
Take a trip to Salem, Massachusetts with Disney cult classic Hocus Pocus.  
Sunday, Oct. 20  
Sundays on 2nd: Pop–Up Boxing, 3:30 p.m. – 4:30 p.m.
A Sunday afternoon boxing class hosted by Battle Republic.  
Thursday, Oct. 24 
Mountain High Run Club Fun Run, 6 p.m. – 7 p.m.
An evening run with a twist: Group run with drinks to follow at The Louis. 
Sunday, Oct. 27 
Pup-swing, 1 p.m. – 4 p.m.
A dog–themed HOWLoween event, with more details coming soon. 
Saturday, Nov.  23 
The Big Pitch presented by PNC, 11 a.m. – 4 p.m.
REV Birmingham's live business pitch competition designed to find and feed Birmingham's next big things. More info. 
Visit upswingbham.com and follow @revbham on Facebook, Twitter and Instagram and hashtag #UpswingBham for event updates, reminders and announcements!  
REV would like to thank Hamburger Creative for their design work on the Upswing logo, Allison Vosicky with Ladies, Wine & Design for helping us visually describe this dream with a rendering, and Ladd Real Estate for helping elevate the Upswing lot for this project. 
Related News
Filed Under: Business-Proving, Front Page

All too often we catch ourselves reading the news wanting to help, but not knowing where to begin. That's why Maria Underwood created Fundrage, a social impact platform that connects users to nonprofits they can support based on the exact news article that they're reading. Keep reading to find out more about how this app is playing a huge role in creating positive change in real time!

Filed Under: Downtown Birmingham, Front Page, Potential-Proving, Uncategorized, Yaysayers

This Friday, May 20th, we will be having a (20th) Street Party (which you can read more about here) to celebrate the end of our Birmingham Green Refresh! While this certainly calls for a celebration, the party doesn't stop there. We will still be adding some finishing touches to the street after the (20th) Street Party. These additional touches will help make Birmingham's main street more vibrant, interactive, and efficient! Additions will include smart trash cans, free libraries, street performers, and more!

Filed Under: Downtown Birmingham, Front Page, Uncategorized

We've talked about sports, but downtown has so much more to offer! Downtown Birmingham has so many experiences in store for you, which can also turn into life-long memories. And lucky for you, we've created a tool to make all that exploring so much easier!