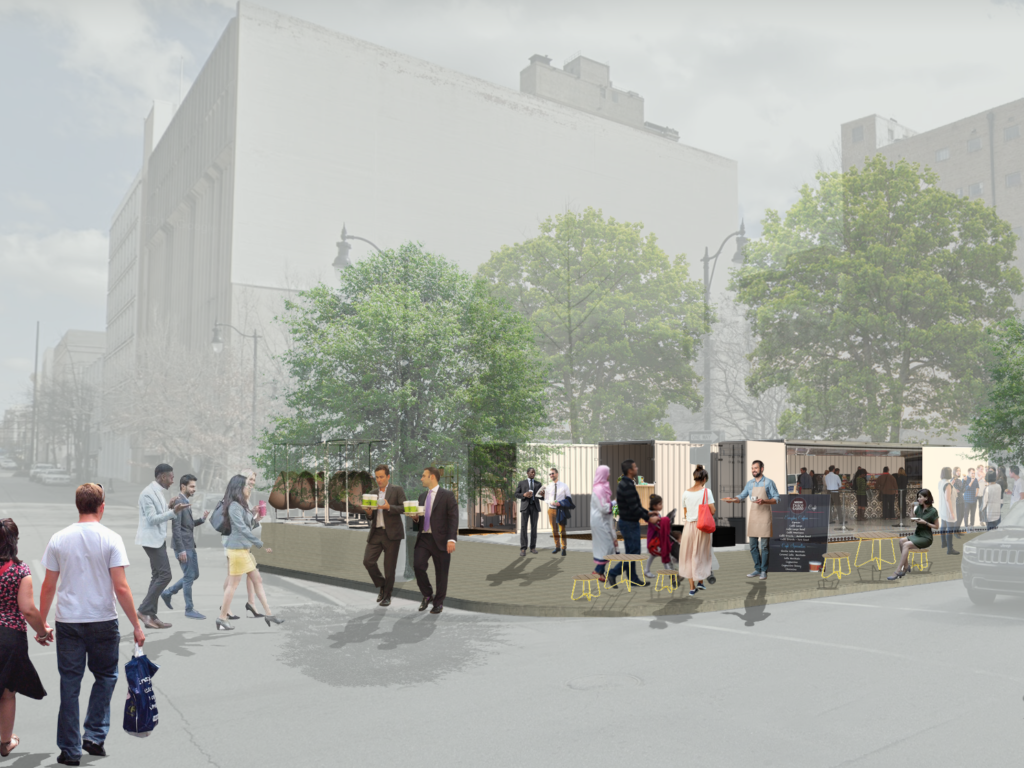 We believe that cool places to shop are vital ingredients for vibrancy in a city—and we believe Birmingham needs more of that.  
That's why this fall, the REV team is doing some new REV things, with a demonstration project designed to prove and improve downtown Birmingham's market for more retail. 
From September 29 to December 14, 2019, we're parking shipping container stores, hanging hammock swings, and planning fun events in a surface parking lot located at 1900 2nd Avenue North. We're calling it Upswing – because Birmingham is on the upswing, because local shops are making a comeback, and because there are literal swings on the lot.  
So make plans to shop local with these Birmingham businesses in our converted shipping container stores: Domestique Coffee, Hide & Hunter + Great Bear Wax Co., and Urban Vintage Clothing + Magic City T-shirts. Come hang out on brightly colored swings, rockers or plain ol' bistro sets and work (or play) using Upswing's free wifi. And, mark your calendars for Upswing's events this fall.  
Here are a few examples of events to come, and even more events for the three-month project will be announced soon. 
Friday, Sept. 27 
Upswing Soft Opening
Visit the shops as they open their doors for the first time!  
Sunday, Sept. 29 
Alabama Multicultural Street Fair, noon – 5 p.m.
A festival celebrating the cultural diversity and the heritage of Alabama with arts, music, dance, and food. More info.  
Tuesday, Oct. 8 
Mountain High Run Club Fun Run, 5:30 a.m. – 6:30 a.m.
A morning run with Mountain High Outfitters's Run Club, followed by coffee at Domestique.  
Thursday, Oct. 17 
Outdoor Movie Night with The Pizitz: Hocus Pocus, 7 p.m. – 10 p.m.
Take a trip to Salem, Massachusetts with Disney cult classic Hocus Pocus.  
Sunday, Oct. 20  
Sundays on 2nd: Pop–Up Boxing, 3:30 p.m. – 4:30 p.m.
A Sunday afternoon boxing class hosted by Battle Republic.  
Thursday, Oct. 24 
Mountain High Run Club Fun Run, 6 p.m. – 7 p.m.
An evening run with a twist: Group run with drinks to follow at The Louis. 
Sunday, Oct. 27 
Pup-swing, 1 p.m. – 4 p.m.
A dog–themed HOWLoween event, with more details coming soon. 
Saturday, Nov.  23 
The Big Pitch presented by PNC, 11 a.m. – 4 p.m.
REV Birmingham's live business pitch competition designed to find and feed Birmingham's next big things. More info. 
Visit upswingbham.com and follow @revbham on Facebook, Twitter and Instagram and hashtag #UpswingBham for event updates, reminders and announcements!  
REV would like to thank Hamburger Creative for their design work on the Upswing logo, Allison Vosicky with Ladies, Wine & Design for helping us visually describe this dream with a rendering, and Ladd Real Estate for helping elevate the Upswing lot for this project. 
Related News
Filed Under: Big Pitch, Front Page, Small Business, Uncategorized

If you've been following REV for a while, you probably remember The Big Pitch Competitions we used to hold back in the day. The Big Pitch presented by PNC was essentially our own little version of Shark Tank. And a lot of your favorite local businesses that participated in this competition now have active retail storefronts that you can go check out. Let's start with some of our finalists that are based in the City of Birmingham and see what they've been up to!

Filed Under: Developer, Downtown Birmingham, Filling Vacant Spaces, Front Page, Potential-Proving, Uncategorized

Have you been to Downtown Birmingham's newest development located on 25th Street? If not, you need to head down there ASAP and check it out! This new single story development is a product of a collaboration between David Baker Architects (DBA) and Locke General Contractors, led by DBA's very own Amanda Loper. It is intended to be a "collaborative commercial space in a catalyst development area of Birmingham." Both DBA and Locke General Contractors will be tenants of the space, along with June Coffee Roasters, Zephyr Barber, and Last Call Baking Cooperative!

Filed Under: Downtown Birmingham, Events, Front Page, Uncategorized

One of Birmingham's many hidden treasures is the music scene downtown. The sheer volume of concert venues we have in downtown Birmingham is something most people aren't even aware of – but it really is remarkable! There is truly something for everyone, whether you're into the smaller, more intimate venues or the large-scale venues for those big name artists. Keep reading to check out some of the cool venues downtown Birmingham has to offer.