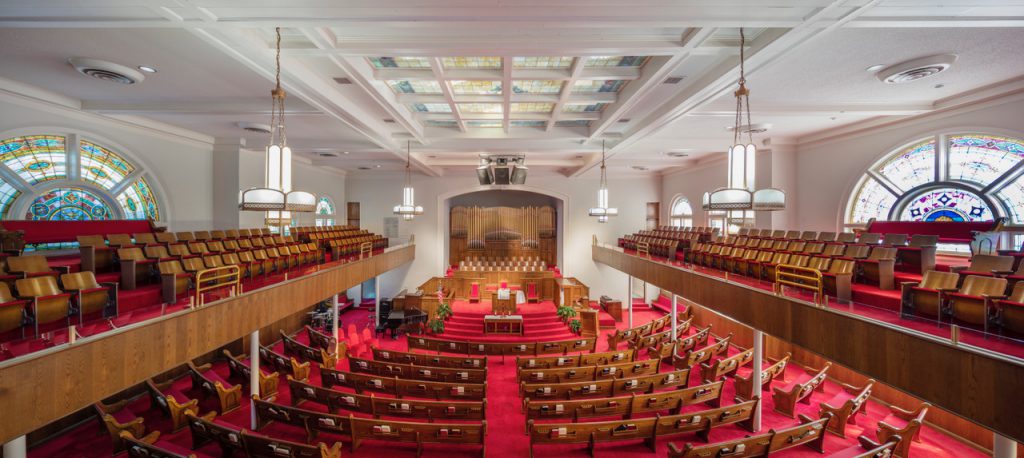 By David Fleming, REV Birmingham CEO
In public planning processes, organizers ask the same three questions: What do you love? What do you want more of? What do you want less of? 
Those questions are used again and again because they yield important answers that policymakers, elected officials and developers use to form strategies like the City Center Master Plan that is currently underway.   
But I want to focus on one thing that always emerges from the "what do you love" question when posed to Birminghamians: The most universally loved thing about Birmingham is its history. 
Birmingham has an impressive stock of historic buildings and renewed interest in saving and reusing them. We've lost some icons along the way, like Birmingham's Byzantine-inspired Terminal Station that was demolished in 1969 – but we still have treasures like the Alabama, Lyric & Carver theaters, 16th Street Baptist Church and the 4th Avenue business district, the Elyton Hotel and John Hand Building, and many venerable beauties in between. Then, we have more historic buildings that haven't quite yet been saved, but they're still standing, waiting on the new life that redevelopment could bring. 
Can you tell I'm a building hugger? Guilty as charged – but historic preservation is valuable far beyond saving architecture. Historic preservation is one of those rare things that serves not only as a tool for good economic development, but it is an outcome of good economic development as well. How so? Well…  
Historic urban fabric attracts and retains the talented workforce businesses and cities need in the modern economy because people want to live somewhere distinctive and authentic.   
Rehabilitation of historic buildings has been proven in many studies to have a greater positive impact on the local economy and local jobs than the same amount of new construction.   
Historic districts that have their integrity intentionally protected are usually areas where you find stable or higher property values than non-historic districts.   
May is National Historic Preservation Month, as so celebrated for years by the National Trust for Historic Preservation and the National Park Service. REV is celebrating too by focusing our content in May on the power and importance of historic preservation.  
Follow REV on social media
We will feature places and people doing good historic preservation that results in positive outcomes for the community.  We'll also share more reasons it's wise for communities to prioritize historic preservation rather than just accepting it as nice if it happens.  
The National Trust's ReUrbanism initiative says it well: "Historic preservation encourages cities to build on the assets they have—unleashing the enormous power and potential of older buildings to improve health, affordability, prosperity, and well-being. Ultimately, it's the mix of old and new buildings, working together to fashion dense, walkable, and thriving streets, that helps us achieve a more prosperous, sustainable, and healthier future. By transforming the places we live to places we love, older buildings are a key and irreplaceable component of this future, and we are richer and stronger when they remain." 
At REV Birmingham, we agree. 
Related News
Filed Under: Big Pitch, Front Page, Small Business, Uncategorized

If you've been following REV for a while, you probably remember The Big Pitch Competitions we used to hold back in the day. The Big Pitch presented by PNC was essentially our own little version of Shark Tank. And a lot of your favorite local businesses that participated in this competition now have active retail storefronts that you can go check out. Let's start with some of our finalists that are based in the City of Birmingham and see what they've been up to!

Filed Under: Developer, Downtown Birmingham, Filling Vacant Spaces, Front Page, Potential-Proving, Uncategorized

Have you been to Downtown Birmingham's newest development located on 25th Street? If not, you need to head down there ASAP and check it out! This new single story development is a product of a collaboration between David Baker Architects (DBA) and Locke General Contractors, led by DBA's very own Amanda Loper. It is intended to be a "collaborative commercial space in a catalyst development area of Birmingham." Both DBA and Locke General Contractors will be tenants of the space, along with June Coffee Roasters, Zephyr Barber, and Last Call Baking Cooperative!

Filed Under: Downtown Birmingham, Events, Front Page, Uncategorized

One of Birmingham's many hidden treasures is the music scene downtown. The sheer volume of concert venues we have in downtown Birmingham is something most people aren't even aware of – but it really is remarkable! There is truly something for everyone, whether you're into the smaller, more intimate venues or the large-scale venues for those big name artists. Keep reading to check out some of the cool venues downtown Birmingham has to offer.