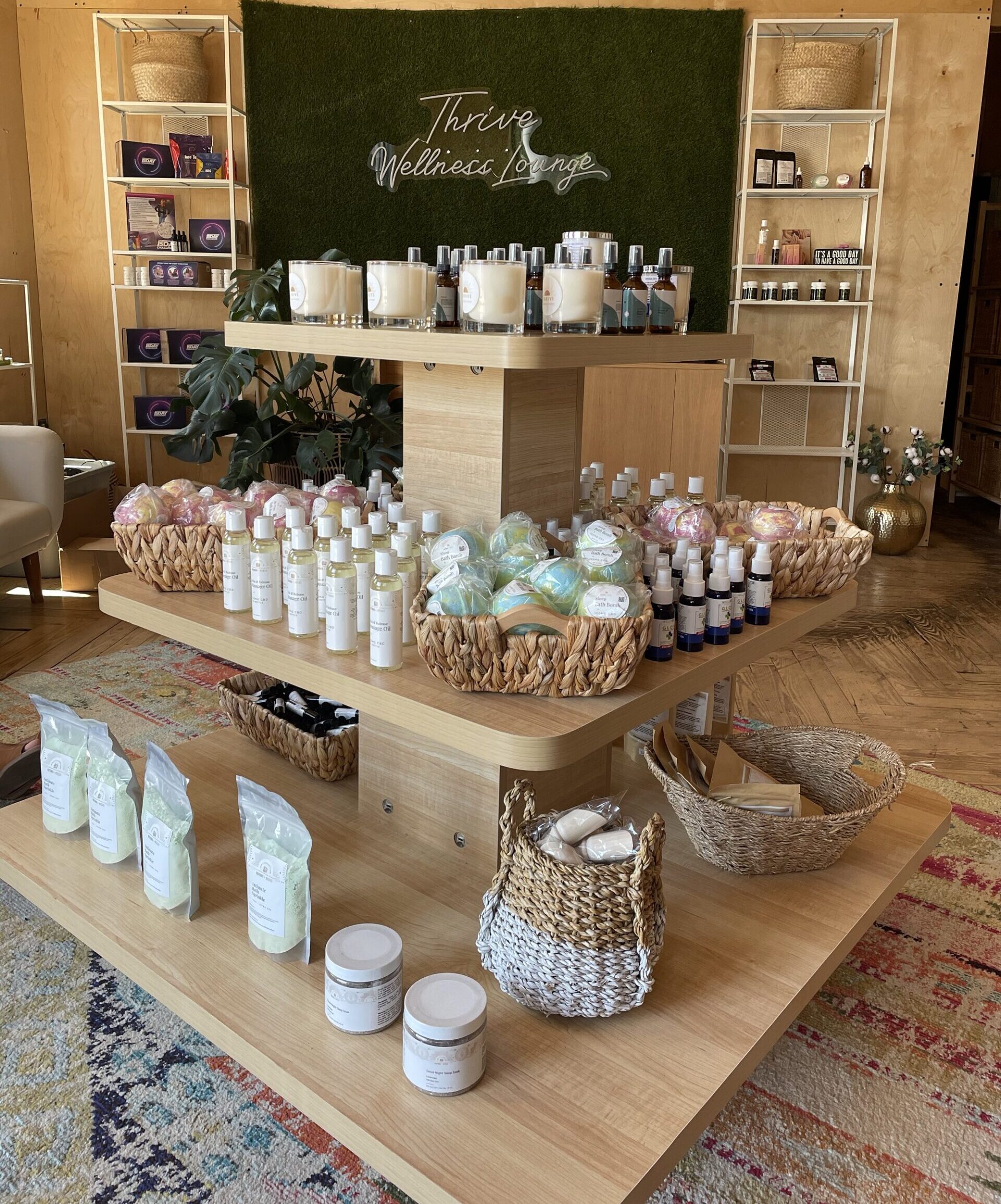 We're so excited to welcome yet another new business to the Woodlawn Community! Thrive Wellness Lounge is a plant-based health and wellness store in the heart of Woodlawn owned by Tish Fletcher (a veteran Woodlawn Street Market vendor – whoop whoop)! You can swing by and check out Woodlawn's newest addition on Tuesday – Saturday from 11:00 a.m. – 5:30 p.m. It's always a good time to support a female, black-owned local business! We talked to Tish a little bit more about her journey to opening her very own brick and mortar store. Keep reading to learn more!
What inspired you to start your business?
Severe fibroid pain sent me to the ER one day. That night I tried CBD for the first time and it changed my life. I had heard of it, but didn't try it because I thought it was illegal and would make me high. So I started researching, buying more products, making products and sharing. From there I wanted to address the stigma surrounding CBD and cannabis and bridge the gap with education.
How did WSM and Magic City Match help you get to where you are today?
WSM was the first marketplace that I applied to participate in. I was later invited to try the retail experience and as I volunteered there I realized people had lots of questions. Being a consultant was better than assuming a customer could go to my website and make the best decision. MCM helped me create a solid business plan and other foundational skills. Being one of the recipients of $25k, allowed me to open sooner with a greater variety of inventory and support services.
Why did you choose to open your business in Woodlawn?
There's a sense of community and family. From Robert, Jason, Cliff, Rebecca, Duquette and many others – I feel supported and comfortable asking for help and advice. Also, as a woman of faith, I truly believe that I am there for "such a time as this". There's a buzz in the area and I feel uniquely positioned and honored to be there.
What has been your favorite part about having your business in Woodlawn?
It's a dream come true. Once I realized that having a retail space would be the best option to serve more people, I wanted the exact space that I'm in. Not only that, knowing that a visionary and business woman of Pinky Cole's (owner of Slutty Vegan) caliber chose Woodlawn as well – well – it puts me in great company.
What products/services do you offer?
I offer CBD infused products, detox teas, vitamins and supplements. I also offer coaching support for my 15 Day Detox Challenge.
What's the next step you'd like to take in order to grow your business?
I would like to start hosting classes to educate the community on the benefits of CBD, detoxing and incorporating a healthy active lifestyle. I want to build an ecosystem of health and wellness while partnering with other makers and professionals.
Can you share a quick pitch to help get customers through the door?
Thrive Wellness Lounge is a combination of your favorite aunt's house and your favorite wellness store. I've created an environment that's intentionally comfortable so that you can come in, find respite and share your problems while I share some solutions. Whether you want to detox, get more energy, lose a few pounds or explore CBD options for pain relief and sleep, I have something for you and even CBD-infused pet treats for your fur baby.
If you could give advice to aspiring business owners, what would it be?
Start a business that you're passionate about and build a support system. I've been in sales before, but nothing I ever sold "changed my life" the way that CBD and detoxing has done. So when business gets hard, I just dig in and keep going because it's about helping others. I believe that I am in alignment with my assignment. Therefore, nothing can get in the way of my success. And success for me, is impact. I am here to make an impact on people's daily lives. So the more I focus on service to many, it will lead to greatness.
Related News
Filed Under: Front Page, Get Involved, Historic Preservation, Residential

President and CEO of REV Birmingham David Fleming writes about the importance of historic preservation and highlights the advocacy efforts that saved the French Quarter in New Orleans and the Forest Park neighborhood in Birmingham. The article concludes with a call to action, urging for new leaders and the implementation of various strategies to protect and celebrate Birmingham's historic buildings and places.

Filed Under: Filling Vacant Spaces, Front Page, Small Business, Woodlawn, Yaysayers

Lights, Camera, Action! The rebirth of the Woodlawn Theater is happening this weekend in the heart of Woodlawn. The theater is opening its doors to the public with two extraordinary opening events that are FREE to the public. The 1400 square foot venue has a wide range of amenities and even has a full-service bar. Because of the Mason Music Foundation, this venue is filling a much needed resource for local musicians to perform. Keep reading to discover how the theater came back to life and its impact on the community.

Filed Under: Downtown Birmingham, Events, Front Page, Yaysayers

Brian Allen, a talented cornerback, has made the remarkable transition from a small town in Texas to the vibrant city of Birmingham. Choosing Birmingham for his football career for two consecutive seasons, Brian's unwavering dedication and exceptional skills have made him a standout figure in the world of football. To dive deeper into Brian's journey and discover his genuine appreciation for the city, watch this video with the link below!