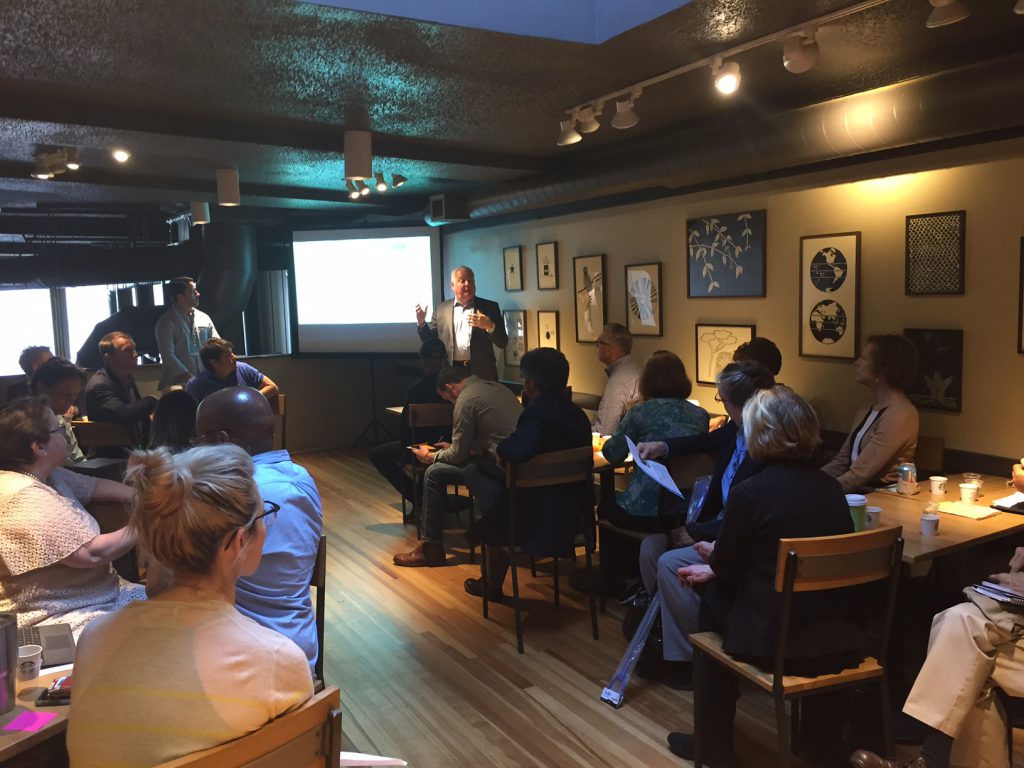 Steve Alexander has always been passionate about the growth and vibrancy of the Five Points South community. As chairman of the Five Points Alliance Board, which recently rounded out its first year, Alexander is actively engaged in the redesign and revitalization of the community that is home to both his business and himself.  
Alexander helped form the infrastructure for the Alliance – from holding meetings to collect community input on how to improve the district to strategically recruiting Alliance board members who would best reflect the Five Points community. Although the board members are of various ages and different backgrounds, they have one thing in common: an unwavering commitment to the advancement of Five Points South. 
"There are many talented people in Birmingham that are willing to bring forth their talents and contribute to bettering the city," said Alexander, who has served his hometown of Birmingham as an attorney since 1988. 
Through his work with the Five Points Alliance and as an attorney, Alexander says he has learned a lot about Birmingham. His hope for the city's future is that the energy residents put into its growth continues to expand and that Five Points South will become a more vibrant community by attracting more residents, becoming more accessible to walkers and cyclists and embracing a greener culture. 
Alexander, along with Alliance Board Vice President John Boone, is looking to the future by exploring ways to finance revitalization and management of the district. The two are investigating business improvement districts (BIDs), like the one that funds the CAP program downtown, and other structures for funding the work of the Alliance. 
To learn more about the Five Points Alliance Board, visit their website. 
Alexander's law firm is in a historic Five Points home at 2177 11th Ct S, Birmingham, AL 35205. He can be contacted at 205-933-8800 or alalawyer@aol.com. 
Related News
Filed Under: Downtown Birmingham, Front Page, Potential-Proving, Uncategorized, Yaysayers

This Friday, May 20th, we will be having a (20th) Street Party (which you can read more about here) to celebrate the end of our Birmingham Green Refresh! While this certainly calls for a celebration, the party doesn't stop there. We will still be adding some finishing touches to the street after the (20th) Street Party. These additional touches will help make Birmingham's main street more vibrant, interactive, and efficient! Additions will include smart trash cans, free libraries, street performers, and more!

Filed Under: Downtown Birmingham, Front Page, Yaysayers

As the home of UAB, Birmingham Southern, and Samford, Birmingham is no stranger to the world of college sports. But we're getting ready to kick it up a notch this spring and summer! Downtown Birmingham is fixing to experience tons of activity led by professional sports. Keep reading to see what all The Magic City has to offer.

Filed Under: Front Page, Uncategorized, Yaysayers

If you've ever visited our office, chances are you've met Clay Ousley. Clay is our Project Coordinator (but really, he's more like a jack of all trades) and has been with REV since August 2015. We have loved every minute of having him on our team and are sad to see him go but so excited to see him embark on his next, very exciting, adventure! He will be going on a walk across the country starting in Charleston, SC and ending at the Santa Monica Pier. Keep reading to learn more about his journey!