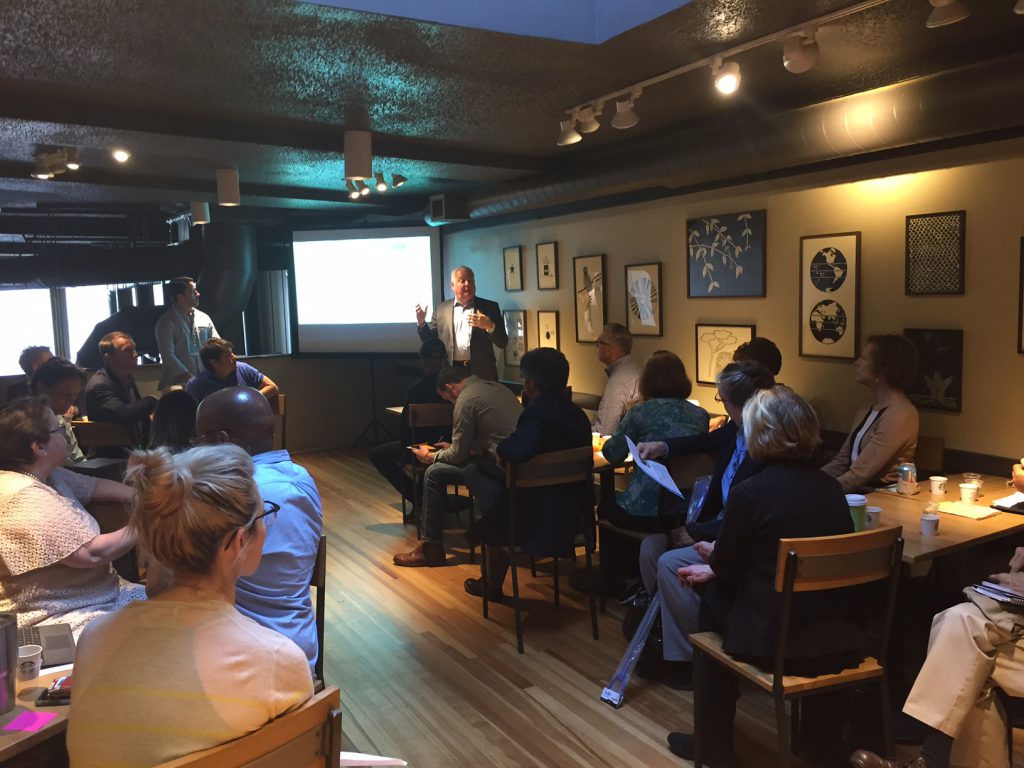 Steve Alexander has always been passionate about the growth and vibrancy of the Five Points South community. As chairman of the Five Points Alliance Board, which recently rounded out its first year, Alexander is actively engaged in the redesign and revitalization of the community that is home to both his business and himself.  
Alexander helped form the infrastructure for the Alliance – from holding meetings to collect community input on how to improve the district to strategically recruiting Alliance board members who would best reflect the Five Points community. Although the board members are of various ages and different backgrounds, they have one thing in common: an unwavering commitment to the advancement of Five Points South. 
"There are many talented people in Birmingham that are willing to bring forth their talents and contribute to bettering the city," said Alexander, who has served his hometown of Birmingham as an attorney since 1988. 
Through his work with the Five Points Alliance and as an attorney, Alexander says he has learned a lot about Birmingham. His hope for the city's future is that the energy residents put into its growth continues to expand and that Five Points South will become a more vibrant community by attracting more residents, becoming more accessible to walkers and cyclists and embracing a greener culture. 
Alexander, along with Alliance Board Vice President John Boone, is looking to the future by exploring ways to finance revitalization and management of the district. The two are investigating business improvement districts (BIDs), like the one that funds the CAP program downtown, and other structures for funding the work of the Alliance. 
To learn more about the Five Points Alliance Board, visit their website. 
Alexander's law firm is in a historic Five Points home at 2177 11th Ct S, Birmingham, AL 35205. He can be contacted at 205-933-8800 or alalawyer@aol.com. 
Related News
Filed Under: Downtown Birmingham, Family Friendly, Front Page, Get Involved, Small Business, Yaysayers

With summer just around the corner, kids will soon be out of school and insisting on getting out of the house. Luckily, Downtown Birmingham has an abundance of family-friendly activities that will keep your kiddos entertained and create lifelong memories.

We know taking kids out for extended periods can be challenging; that's why we have curated a list of experiences designed to be enjoyable within a manageable 3 – 4 hour timeframe. This way, both children and parents can make the most of their time without feeling overwhelmed or exhausted. These four experiences include lunch options and are tailored to different ages and personalities.

Filed Under: Downtown Birmingham, Front Page, Get Involved, REV Team, Yaysayers

Meet Michael Symes, the new City Center District Manager for the Business Improvement District (BID). As a long-time resident of Birmingham, Michael brings a wealth of knowledge and experience to the role, having been an active member of the community since graduating from the University of Alabama. In this article, we will explore Michael's journey and learn about his "accidental roots" in the city, as well as his passion for working with the Business Improvement District (BID) of the Magic City. Follow along  as we get to know the person behind the job title and uncover the unique perspective he brings to the role.

Filed Under: Filling Vacant Spaces, Front Page, Small Business, Woodlawn, Yaysayers

Lights, Camera, Action! The rebirth of the Woodlawn Theater is happening this weekend in the heart of Woodlawn. The theater is opening its doors to the public with two extraordinary opening events that are FREE to the public. The 1400 square foot venue has a wide range of amenities and even has a full-service bar. Because of the Mason Music Foundation, this venue is filling a much needed resource for local musicians to perform. Keep reading to discover how the theater came back to life and its impact on the community.