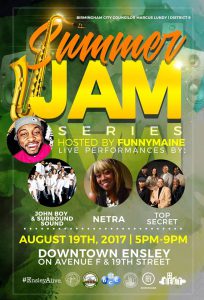 Ensley is family. Ensley is home. Ensley is alive… Come see for yourself on Saturday, August 19! Councilor Marcus Lundy presents Summer Jam 2017 – the final installment under the current District 9 leadership – on August 19 from 5 p.m. to 9 p.m. in Downtown Ensley (corner of Avenue F and 19th Street). Ensley is experiencing a movement, folks. People in the know can attest that the pulse of this district is strong, and Summer Jam is your chance to feel that heartbeat firsthand.
Featuring a live concert by national recording artists, Summer Jam is an annual block party to celebrate the authentic Ensley. From its historic landmarks and faithful businesses to its iconic jazz roots and homegrown entertainment and art scene, Ensley has a storied past and a bright future. If you believe in this community and are itching to get involved, now is the time! And if you've been curious about Ensley's budding renaissance, come on over and jam!
Summer Jam is free to the public and will include food and street vendors, grand prize giveaways, community spotlights and more. Mark August 19 in your calendar, and stay tuned for more details. And, of course, RSVP to the event on Facebook –CLICK HERE!
Related News
Filed Under: Downtown Birmingham, Filling Vacant Spaces, Front Page, Uncategorized

Whether you're planning on visiting Birmingham for The World Games 2022 in just a few weeks, or you're a local looking to explore your city and find some hidden gems, we've got an awesome list of public spaces for you to check out! We've put together a short list of some of the places we think you should check out, but we encourage you to get out and see what else you can find.

Filed Under: Downtown Birmingham, Front Page, Get Involved, Uncategorized, Yaysayers

We are almost one month out from The World Games 2022! This vibrant event will be transformative for Downtown, and we want you to be a part of it! If you consider yourself a lover of Downtown Birmingham and are the friend that always knows where to go or what to do Downtown, this might be the perfect fit for you. We invite you to become a Downtown Ambassador Volunteer and help Birmingham put its best foot forward!

Filed Under: Downtown Birmingham, Front Page, Potential-Proving, Uncategorized, Yaysayers

This Friday, May 20th, we will be having a (20th) Street Party (which you can read more about here) to celebrate the end of our Birmingham Green Refresh! While this certainly calls for a celebration, the party doesn't stop there. We will still be adding some finishing touches to the street after the (20th) Street Party. These additional touches will help make Birmingham's main street more vibrant, interactive, and efficient! Additions will include smart trash cans, free libraries, street performers, and more!