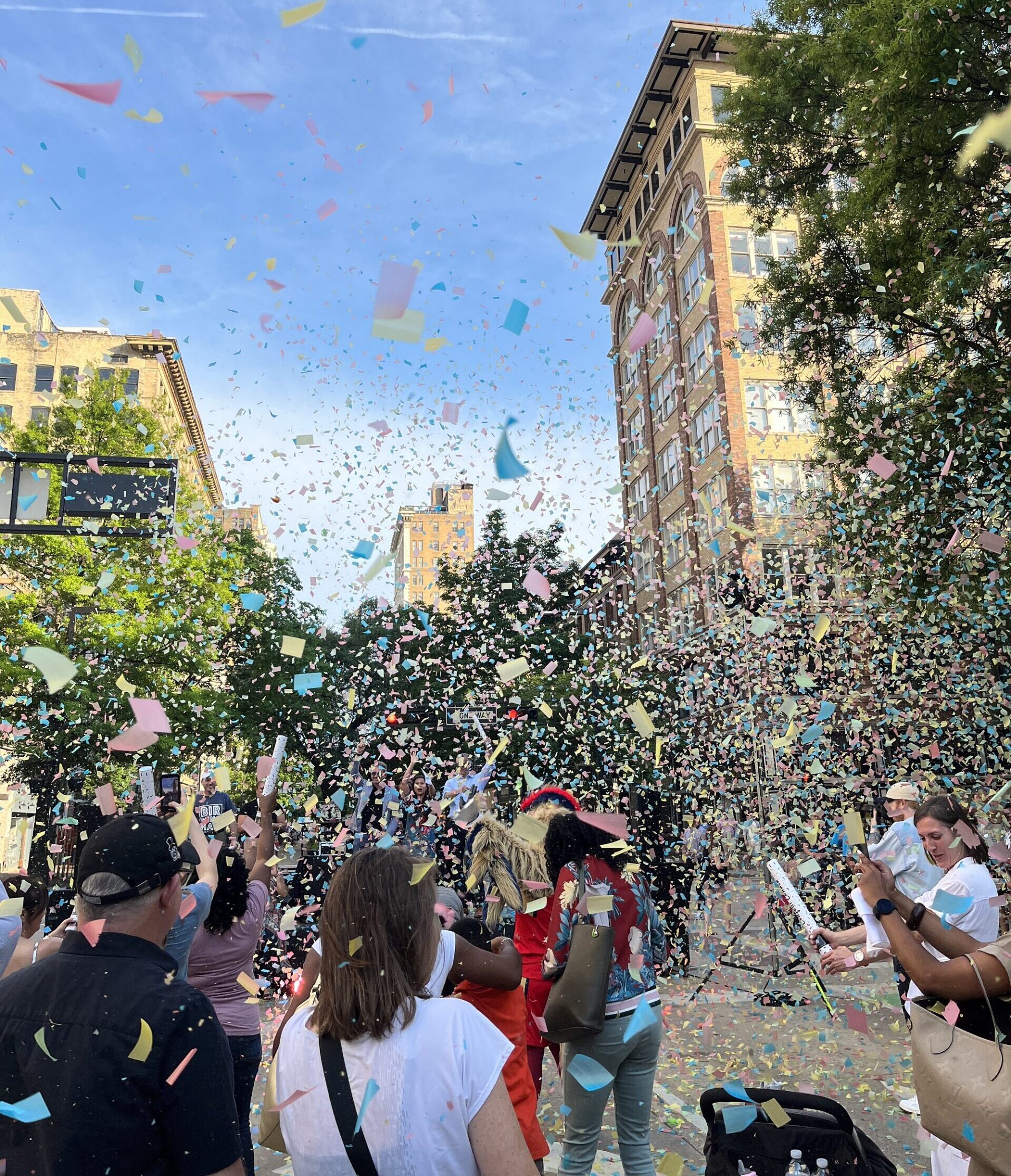 Okay – you probably know by now that we recently wrapped up construction on 20th Street (and if you didn't, surprise – now you know!). We held a street party to wrap it all up and it was a huge success, if we do say so ourselves. There's nothing better than seeing hundreds of people come together to celebrate the revitalization of their beloved city. Although there are still more additions to come, which you can read about here, the streetscape has been beautified and is ready to be shown off at The World Games (and beyond) this July! But for now, let's continue the celebrations and take a look back at the (20th) Street Party that took place last week. And be sure to stop by and check out all the fun new additions to Birmingham's main street next time you head down there!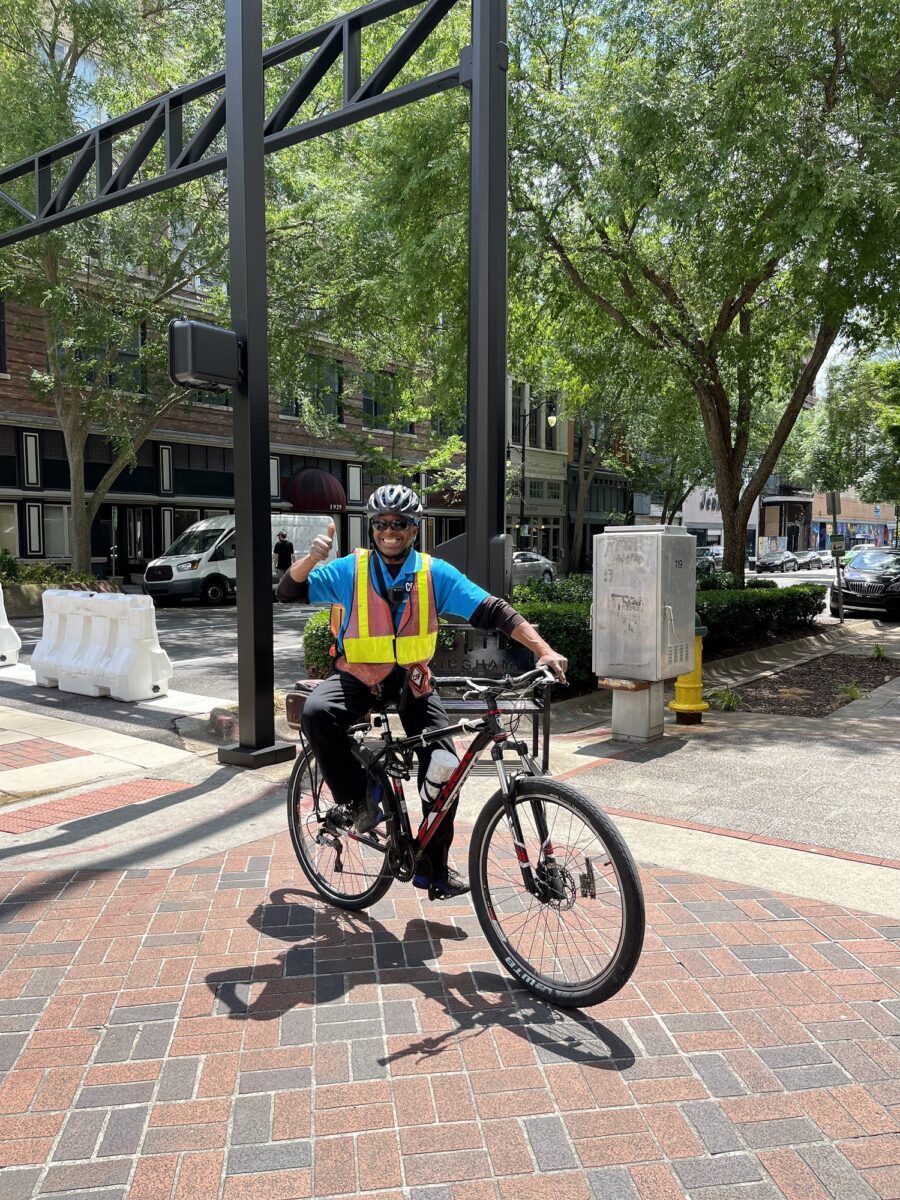 CAP Team
The CAP team was not only at the street party keeping the streets of Birmingham clean AND safe, but they were also excited to party alongside everybody! I mean, look at that smile!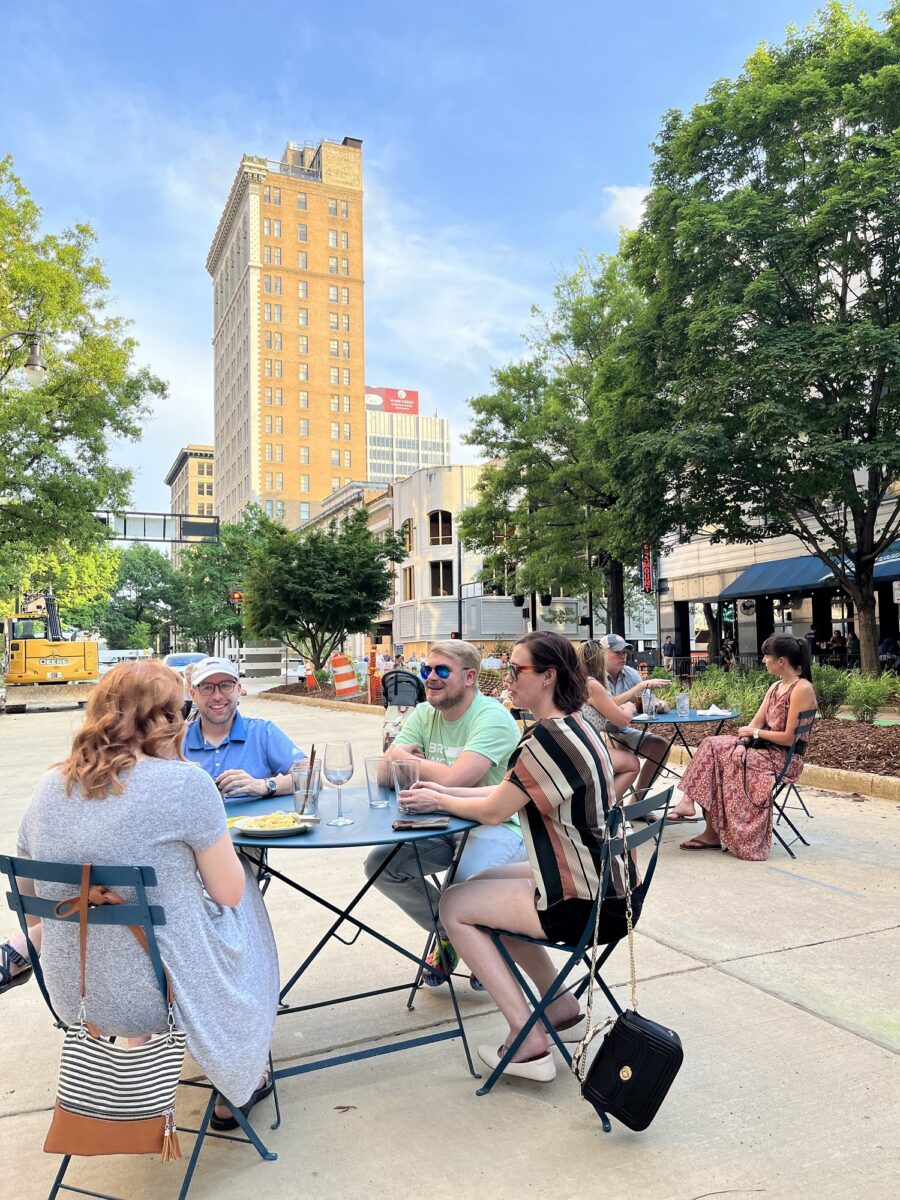 Outdoor Dining
We'd say it's safe to assume that everybody is pretty thrilled about the new outdoor seating on 20th Street. What's better than enjoying fresh air, the beautiful sights of downtown, and some great company? We'd have to say nothing!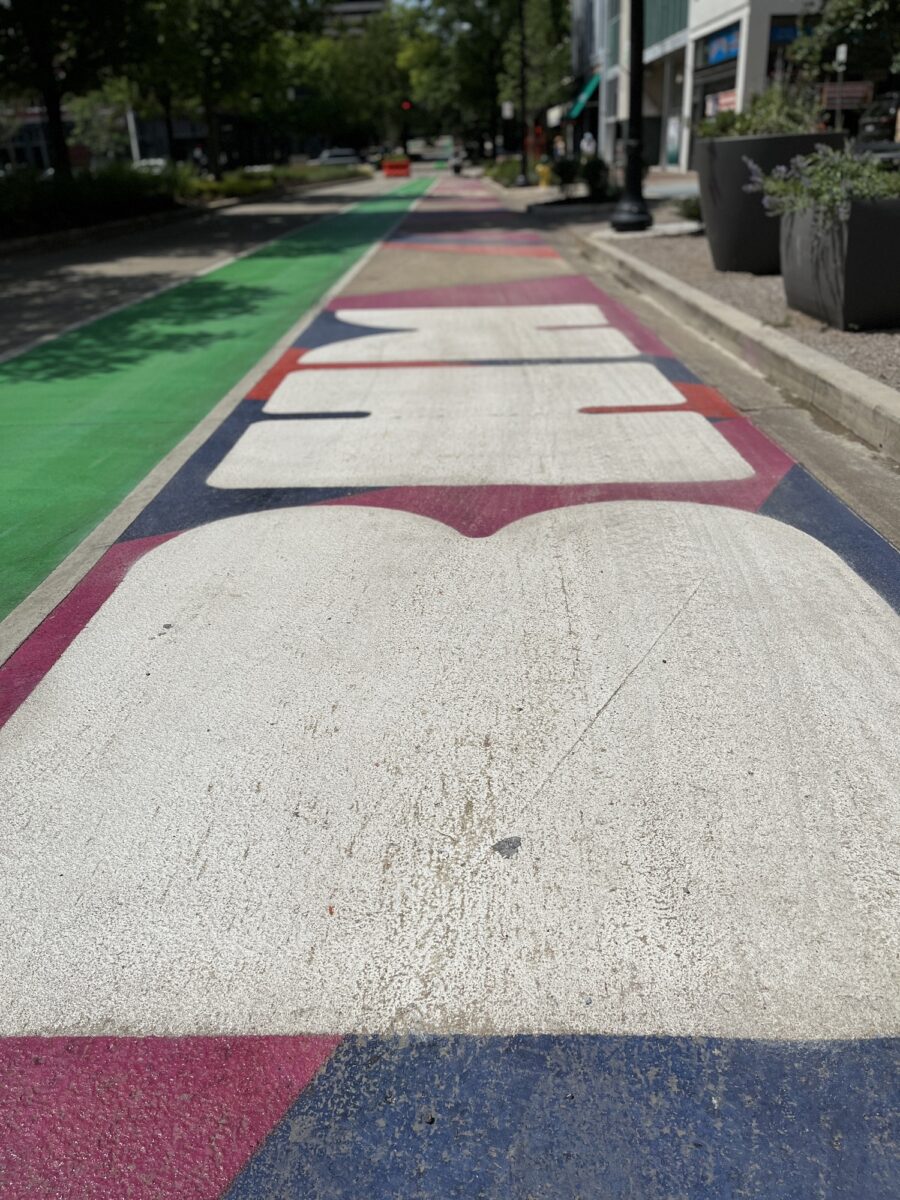 Flex Lanes
Check out how good the new flex lane designs look! Next time you head over to 20th Street, make sure you keep an eye out for all the new Downtown branding that's been added into the streetscapes. So much color and so much fun!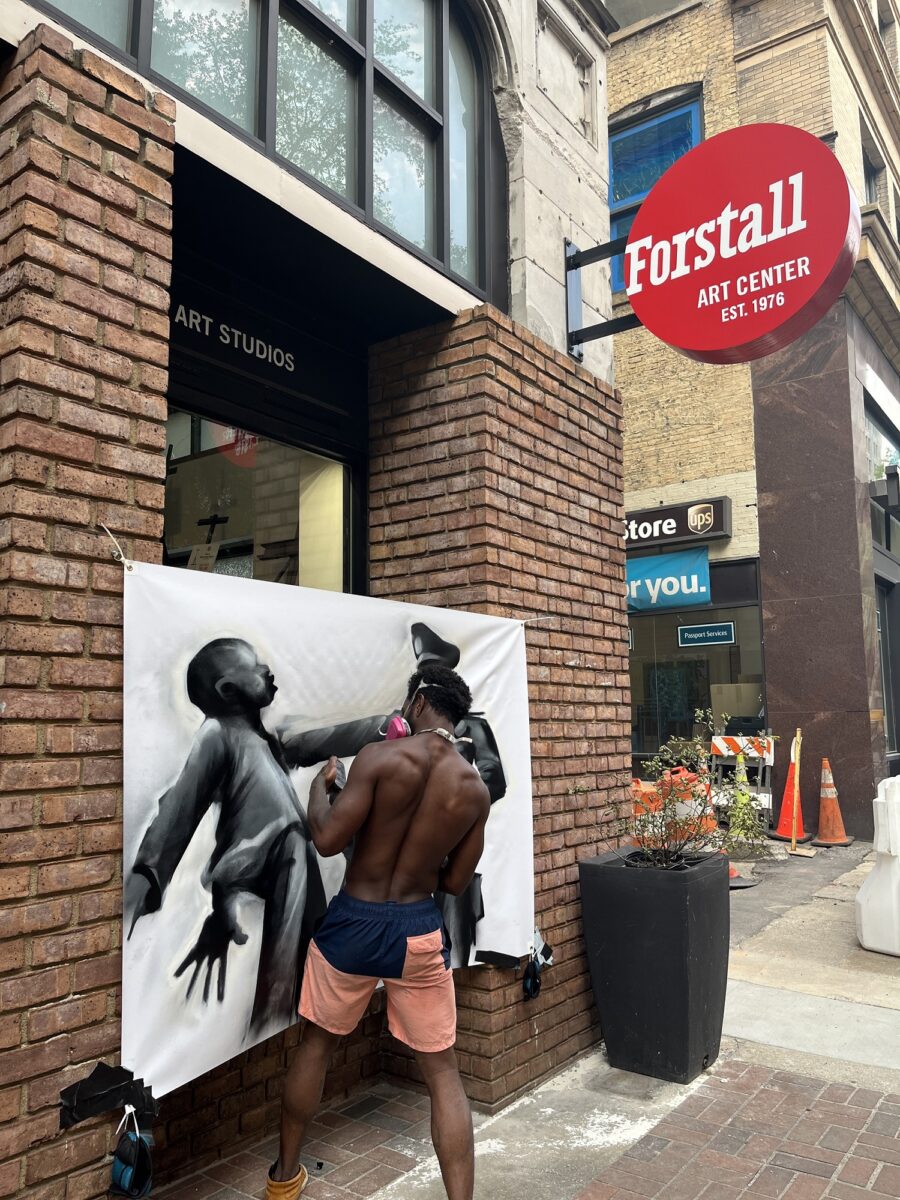 Live Art
This live art installation outside of Forstall Art Center was such a cool way to celebrate all of the talent here in the Magic City! I mean seriously, look at that detail!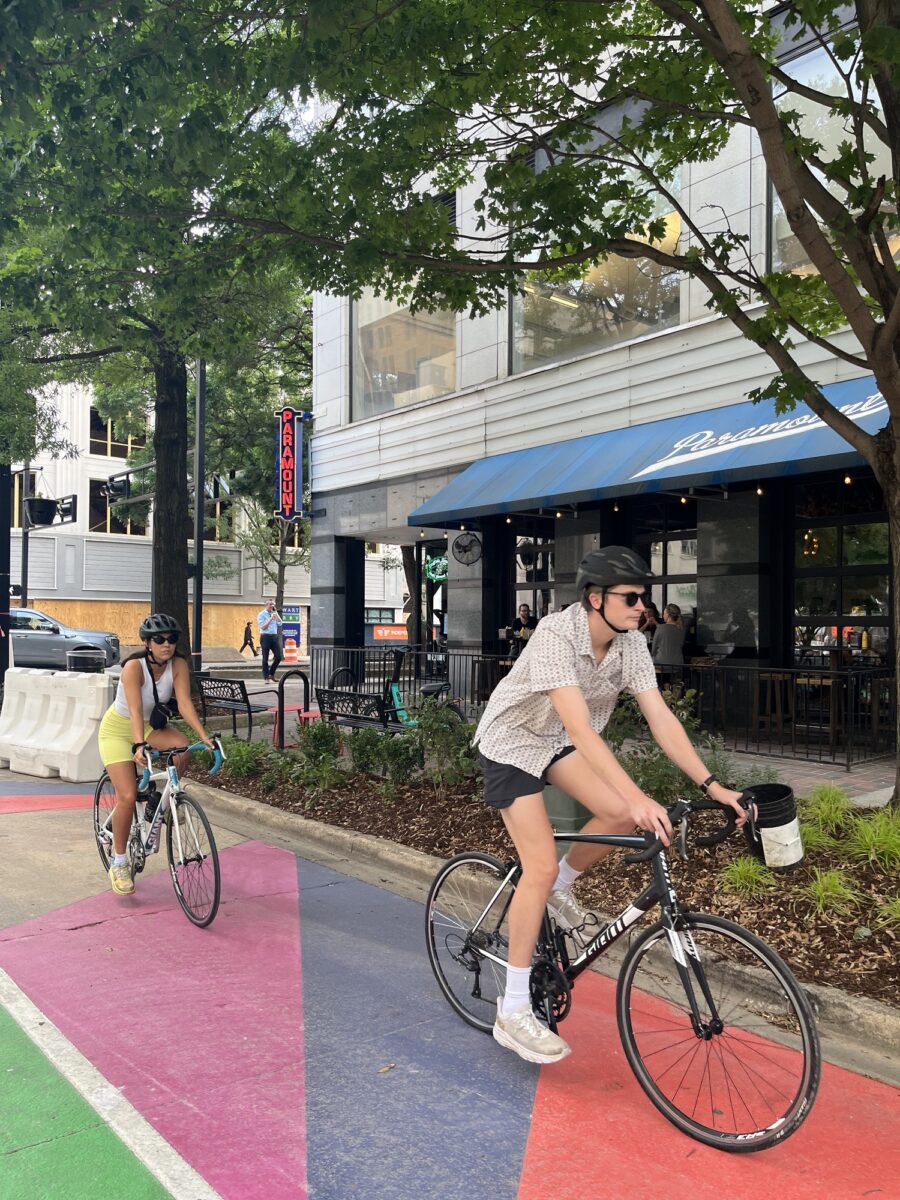 Bikers
These bikers were wasting no time utilizing the new flex lanes – and we can't say we blame them!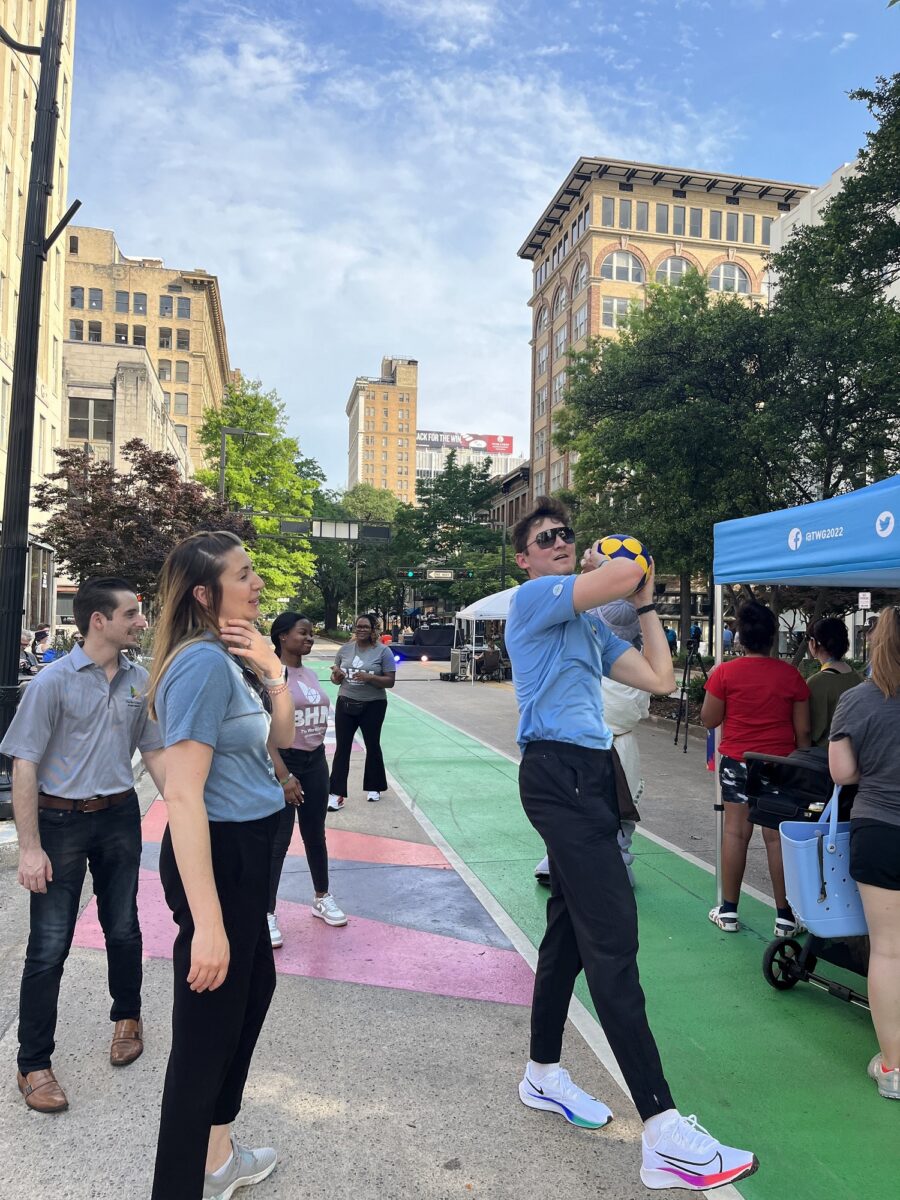 The World Games
The World Games team decided to join the party as well! Is it really a celebration without some games?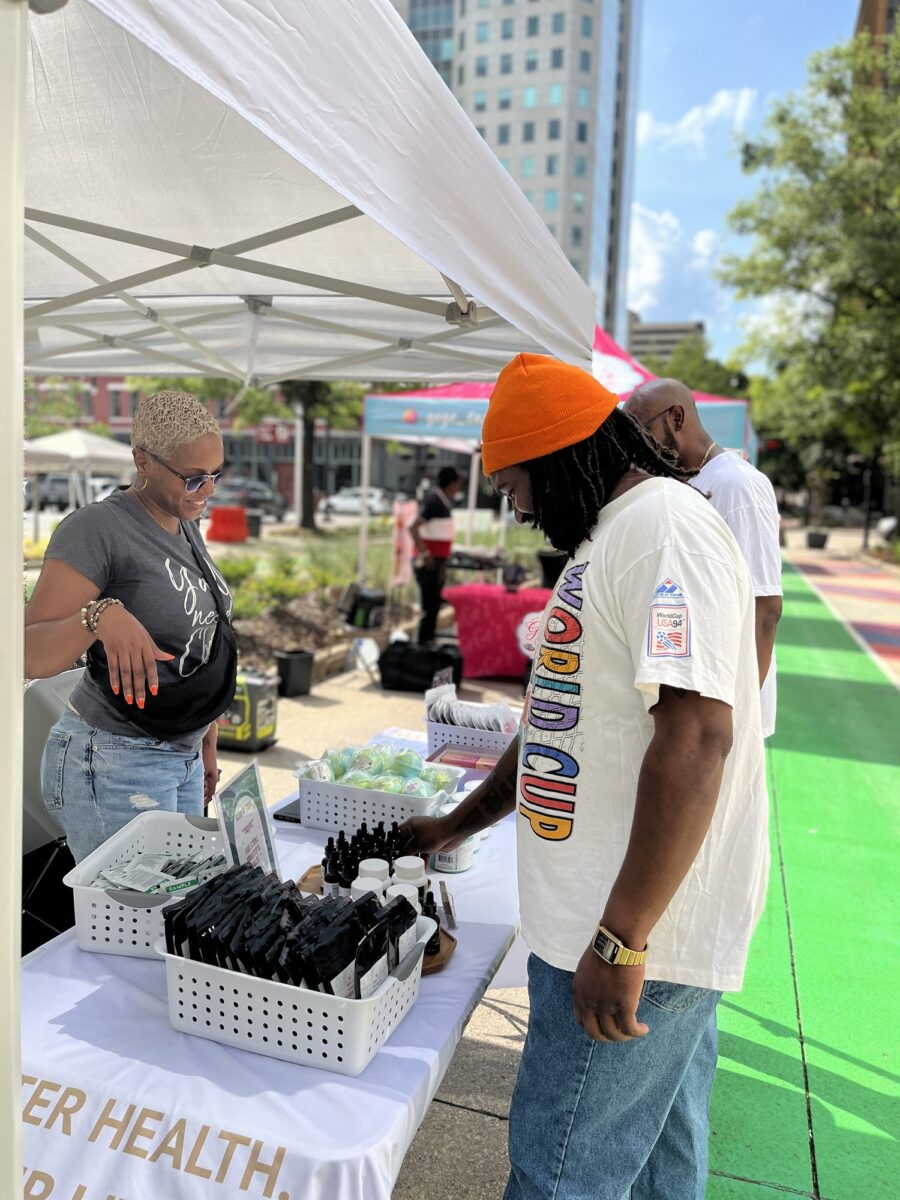 Vendors
And, of course, this was the perfect opportunity to support local businesses! We were so excited to have these vendors join us and share their goods with the city.
DJ Supreme
DJ Supreme really knows how to get a party started! He got everybody movin' and groovin' with some fun tunes!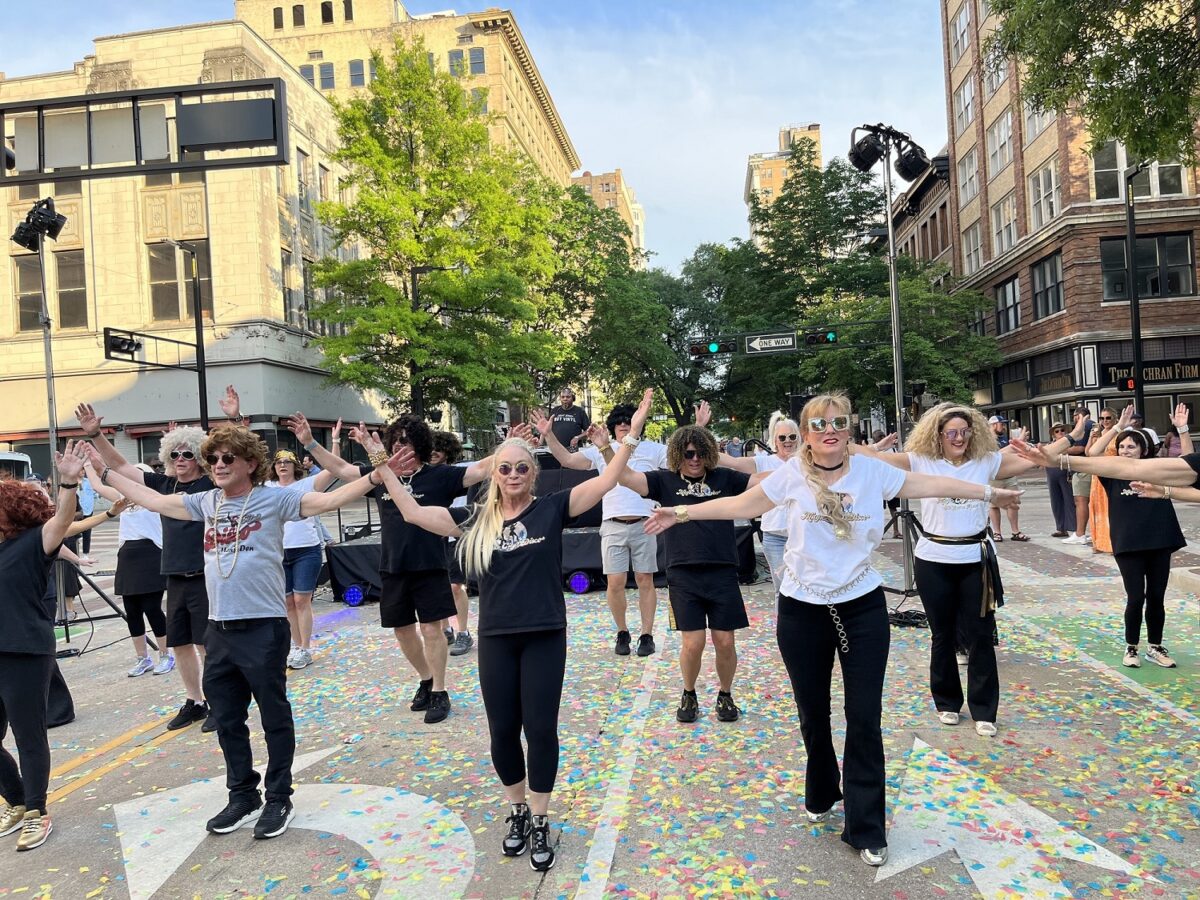 Magic City Disco
And if anybody can get you wanting to move your feet, it's the Magic City Disco krewe! They really knew how to bring the party.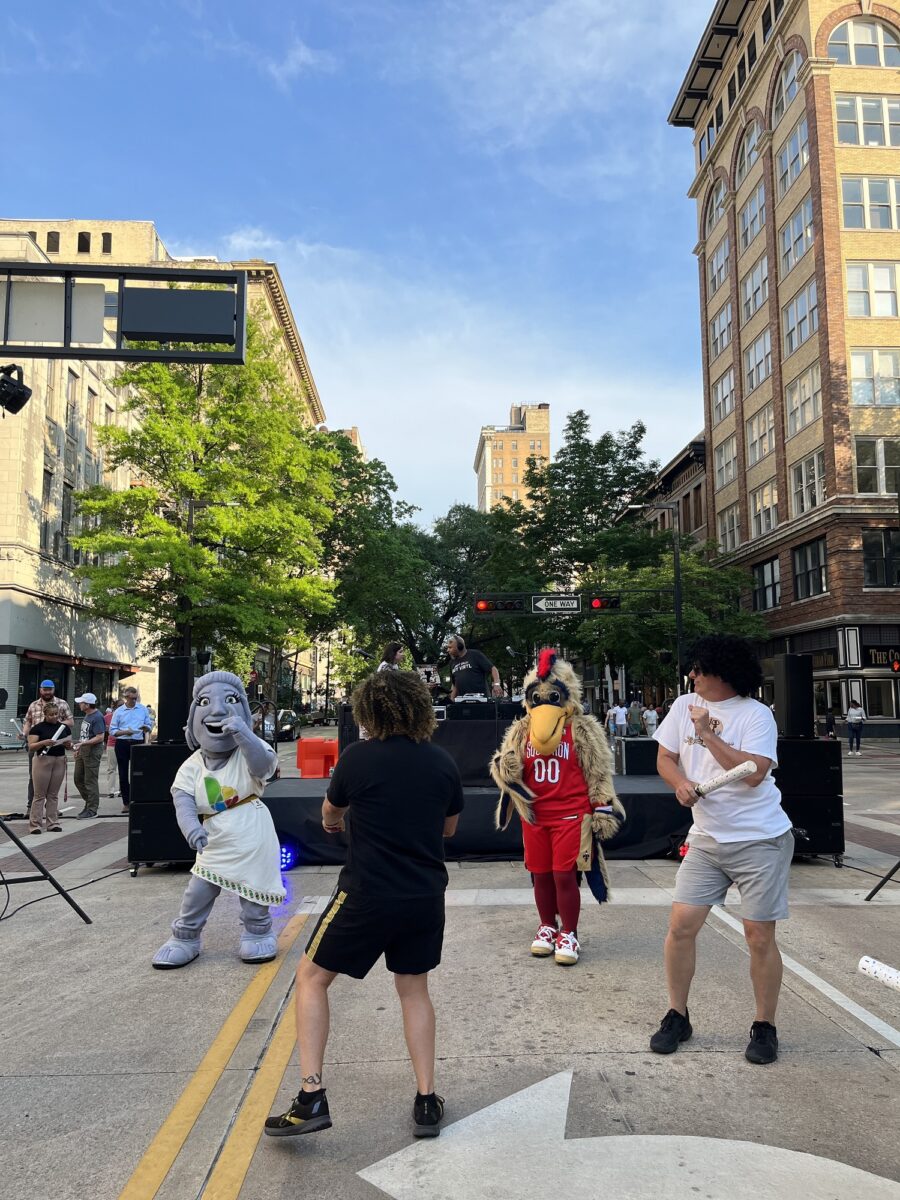 Mascot Dance Off
The Magic City Dancers made sure nobody was left out of the dance party – not even the mascots!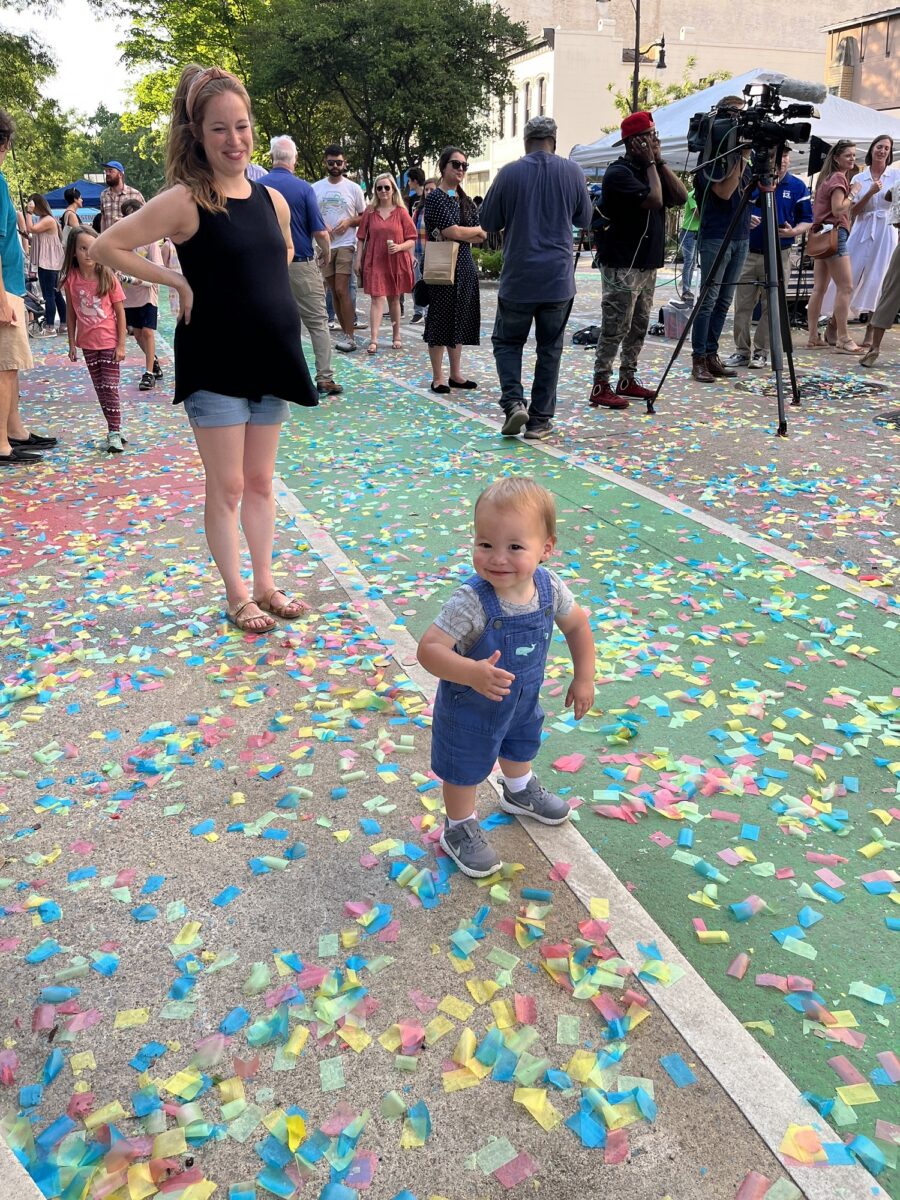 Dance Party for All!
Even the youngsters were feeling the rhythm!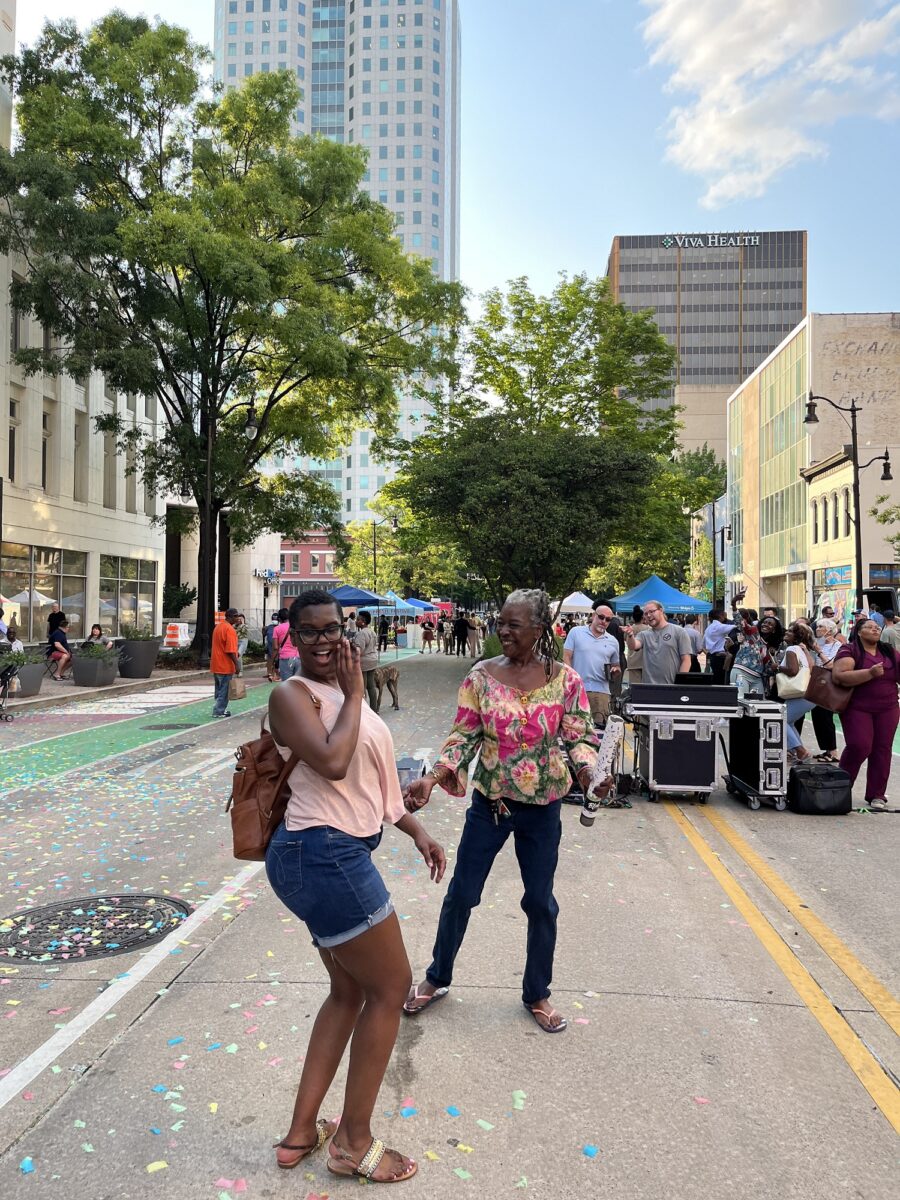 Celebrations
So much fun was had, we just wanted to scream & shout all night long!
Related News
Filed Under: Downtown Birmingham, Filling Vacant Spaces, Front Page, Uncategorized

Whether you're planning on visiting Birmingham for The World Games 2022 in just a few weeks, or you're a local looking to explore your city and find some hidden gems, we've got an awesome list of public spaces for you to check out! We've put together a short list of some of the places we think you should check out, but we encourage you to get out and see what else you can find.

Filed Under: Downtown Birmingham, Front Page, Get Involved, Yaysayers

Over the past 6 months partners with the Mayor's Office of Social Justice and Racial Equity, the Birmingham Museum of Art, The City of Birmingham Park and Recreation Board, The Friends of Linn Park, and The Philip Morris Fund for Design Arts to gather the community in a planning process the envisions what Linn Park could be for the future of our city. And now, we're taking it one step further and getting YOUR input as well!

Filed Under: Front Page, Potential-Proving, Woodlawn

The Mason Music Foundation is a nonprofit helping "to empower, inspire, and enrich the lives of children in local communities through life changing musical experiences." We sat down with Will Mason, CEO of Mason Music, to learn more about the inspiration behind the foundation, why they chose Woodlawn as one of their prime locations, and what we can expect to see from them in the near future! Plus, the foundation will be moving into the new Woodlawn Theatre soon, so keep an eye out for some musical performances coming your way!