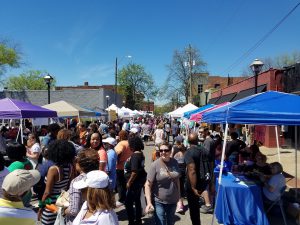 We hope you enjoyed the first Woodlawn Street Market of 2017! It was one of our biggest markets yet. With more than 70 vendors, we drew thousands onto 55th Place South in the heart of Historic Woodlawn. Some of our vendors, like Alloy Thai and TCain Chicken Sausage (both CO.STARTERS grads) sold out! Better Kombucha came close. Overall, the market generated 30% more sales than the 2016 April Market, a sign that the market is growing and demand is increasing. Several brick and mortar merchants in Woodlawn saw significant increases in sales as well, due to the steady crowds. Lastly, more than 50 people participated in the City Meats & Vegetables Easter Egg Decorating Contest! Congratulations to Betsy, Ben, Charlie, Channing, and Comred for winning the egg decorating contest!
Side note – City Meats is still offering its Easter special this week with $10 hams and all the sides to go with it! Check it out on Facebook and give 'em a "Like" while you're there!
The next market will be June 3rd and applications are now available! See you all in June! Click HERE for the application!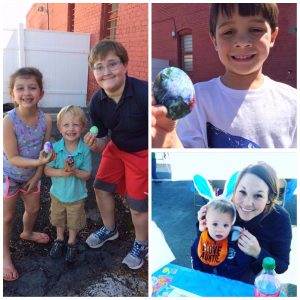 Related News
Filed Under: Events, Small Business, Uncategorized, Young Pioneers

Come join Young Pioneers of Birmingham, in support of REV Birmingham, for coffee and doughnuts with Bill Smith of Shipt and David Fleming of REV on Thursday, July 19 at 7:30 a.m. at Shipt HQ!

Filed Under: Uncategorized

In 2017, the Five Points Alliance set the foundation for the continued growth and development of the Five Points area.

Filed Under: Uncategorized

Steer clear of the actual construction, Zypsters, but feel free to check out your favorite green bikes from the station on the Green!