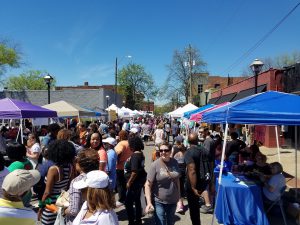 We hope you enjoyed the first Woodlawn Street Market of 2017! It was one of our biggest markets yet. With more than 70 vendors, we drew thousands onto 55th Place South in the heart of Historic Woodlawn. Some of our vendors, like Alloy Thai and TCain Chicken Sausage (both CO.STARTERS grads) sold out! Better Kombucha came close. Overall, the market generated 30% more sales than the 2016 April Market, a sign that the market is growing and demand is increasing. Several brick and mortar merchants in Woodlawn saw significant increases in sales as well, due to the steady crowds. Lastly, more than 50 people participated in the City Meats & Vegetables Easter Egg Decorating Contest! Congratulations to Betsy, Ben, Charlie, Channing, and Comred for winning the egg decorating contest!
Side note – City Meats is still offering its Easter special this week with $10 hams and all the sides to go with it! Check it out on Facebook and give 'em a "Like" while you're there!
The next market will be June 3rd and applications are now available! See you all in June! Click HERE for the application!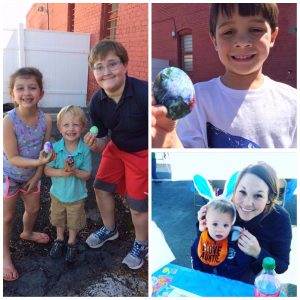 Related News
Filed Under: Downtown Birmingham, Filling Vacant Spaces, Front Page, Uncategorized

Whether you're planning on visiting Birmingham for The World Games 2022 in just a few weeks, or you're a local looking to explore your city and find some hidden gems, we've got an awesome list of public spaces for you to check out! We've put together a short list of some of the places we think you should check out, but we encourage you to get out and see what else you can find.

Filed Under: Downtown Birmingham, Front Page, Get Involved, Uncategorized, Yaysayers

We are almost one month out from The World Games 2022! This vibrant event will be transformative for Downtown, and we want you to be a part of it! If you consider yourself a lover of Downtown Birmingham and are the friend that always knows where to go or what to do Downtown, this might be the perfect fit for you. We invite you to become a Downtown Ambassador Volunteer and help Birmingham put its best foot forward!

Filed Under: Downtown Birmingham, Front Page, Potential-Proving, Uncategorized, Yaysayers

This Friday, May 20th, we will be having a (20th) Street Party (which you can read more about here) to celebrate the end of our Birmingham Green Refresh! While this certainly calls for a celebration, the party doesn't stop there. We will still be adding some finishing touches to the street after the (20th) Street Party. These additional touches will help make Birmingham's main street more vibrant, interactive, and efficient! Additions will include smart trash cans, free libraries, street performers, and more!