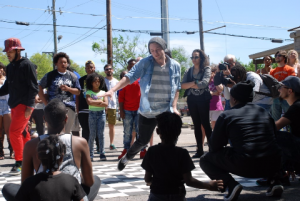 Flowers are blooming and temps are rising, and that could only mean one thing– it's time for the first Woodlawn Street Market of 2017. This market is sure to excite and wow market-goers, with 30+ new vendors and more than 50 of your favorite vendors returning to the April 1st market.
If you've never attended a Woodlawn Street Market before, here's what to expect:  WSM is known for its eclectic mix of vendors selling unique art pieces, hand-crafted jewelry, the trendiest fashions, and oh yeah, we can't forget about the food!  Next up, the street dance battles. You've probably never seen dance battles at a market in Birmingham before, so be there to witness some of the best urban dancers from Birmingham and the southeast pound the pavement for bragging rights.  Lastly, gaze upon blank canvasses transformed into artful masterpieces by some of Birmingham's best street artists.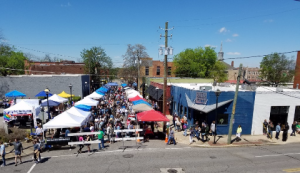 Convinced? Great! We'll see you on Saturday, April 1st from 10 AM to 4 PM in the heart of Historic Woodlawn. Tell your family, friends, your neighbors, co-workers that you'll be part of one of the best markets in Birmingham by clicking HERE!
Want to find out how you can get involved or participate in the June market? Contact REV District Coordinator Brian Gunn at BGunn@REVBirimingham.org or visit http://woodlawnbhm.com/street-market/.
Related News
Filed Under: Uncategorized

Get to know our team better by learning more about what we do and hearing some fun facts about each team member. This week we are introducing Ben Wieseman, our Director of Catalytic Development!

Filed Under: Front Page, Uncategorized

Public parks play a vital role in how we experience the communities, neighborhoods, and cities that we live in. Inclusive, well-designed public spaces provide access to recreational activities, spurs local investment opportunities, and combats environmental impacts.